Airbus Helicopters has revealed the first airframe of an H175 super-medium-twin which has been built entirely using European-sourced components to replace those previously provided by Chinese suppliers.
The product of a five-year initiative, the absence of Chinese content will remove a significant obstacle to development of a military variant of the 7.8t platform.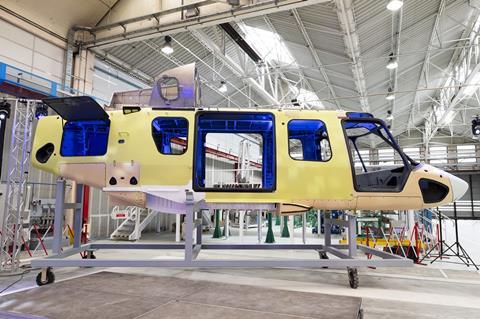 That will also pave the way for the manufacturer to potentially offer the H175M to the UK as a replacement for the Royal Air Force's (RAF's) fleet of Puma HC2s, under the New Medium Helicopter (NMH) programme.
"Contrary to the misleading implications from our competitor [Leonardo Helicopters], the H175M is, as you can see, most certainly not a 'paper aircraft'," says Colin James, managing director of Airbus Helicopters UK.
"We have built the first airframe using a supply base completely compliant with western military requirements and we have identified multiple supplier sources who can provide the last two components of the complete helicopter which need to be replaced."
Those final components are the tail rotor gearbox and the intermediate gearbox, for which the airframer is confident suppliers can be nailed down. However, it declines to reveal who the new or prospective suppliers are.
Airbus Helicopters has been working on replacing the Chinese content on the H175 for several years in the expectation that a western military or governmental customer would eventually be interested in the platform. However, it will not launch development of an M-model variant without a first order.
If selected, the specific example under construction could eventually be the first unit delivered to the RAF, the airframer says.
At present, it has no plans to use the westernised H175 as a demonstrator. Rival Leonardo Helicopters has already begun showcasing the capabilities of its competing AW149 using what it calls the Common Platform Demonstrator.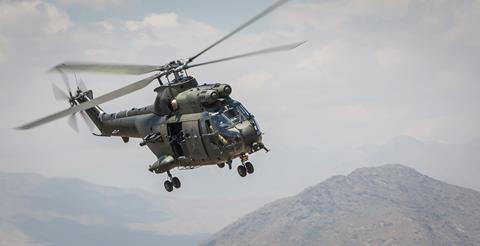 Although much depends on the requirements of the UK Ministry of Defence (MoD) – thought to be released later this year – they are likely to include a need to focus on the UK's industrial base.
Airbus Helicopters says if selected it would build the H175M in the UK, also opening the way to assembling the rotorcraft for the export market. Similarly, if it wins, Leonardo Helicopters has pledged to establish production capability for the AW149 at its Yeovil facility in the southwest of England.
Both would also perform maintenance and support of the platform locally.
"The H175M is an advanced, high-performing helicopter fully capable of fulfilling the UK's NMH needs and of becoming a sustainable UK export product with the potential to resurrect the capacity and capability of the country's helicopter industry," says James.
Earlier this year, the MoD said the 23-strong Puma fleet would be retired by the middle of the decade and replaced by the NMH.
Although Airbus Helicopters has secured western airframe suppliers for a future military variant, the agreement with its Chinese partners on civil models remains unchanged.