Airbus Helicopters insists the door is still open for Germany to join the Tiger MkIII upgrade alongside France and Spain but has yet to receive any indication from Berlin as to its plans.
When the programme was launched in March, Germany was given an end-of-summer deadline to signal its participation. However, amid apparent interest in the Boeing AH-64E Apache, there has been no sign of any decision having been taken.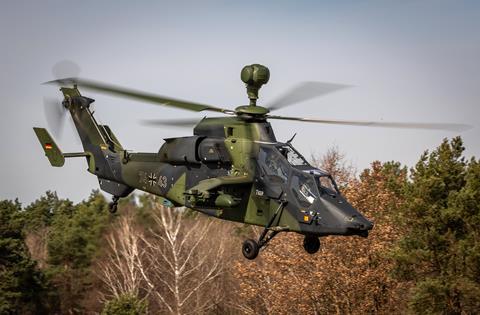 "When we signed the contract with France and Spain at the beginning of the year, we were clear that the door would be open to Germany," says Bruno Even, chief executive of Airbus Helicopters.
While that opportunity expired in the summer, "the reality today is that there has been no clear position expressed by Germany", he said, speaking to FlightGlobal at an event in Munich on 30 November.
Should Berlin decide to sign up "it would be our duty to find a way to onboard them", says Even.
However, the later any decision is made the harder it will be to allocate workshare to German industry "without impact on the overall programme".
Should Germany opt not to participate in the MkIII effort, then "the next question" will be how it intends to address the obsolescence issues of its army's 55-strong Tiger UHT fleet, says Even.
"If Germany decided to take its own path on some possible extension, it would have to have to bear the cost itself," he says. "Our view is that the best compromise is still Tiger MkIII."
Even says Airbus Helicopters, which has a large manufacturing presence in Donauworth in the south of the country, is "ready to work at any time with Germany to define the right scenario and the way forward.
"I cannot be happy to see one of the countries at the origin of the programme not following their partners at this stage," he adds.
Germany last year issued a request for information to Boeing on the possible acquisition of the AH-64E, but Even maintains it would be "more affordable to go for the MkIII than to buy a new helicopter."
Under the current scope of the MkIII progamme, Spain will take 18 updated MkIII Tigers, from a curent inventory of 23, while France will upgrade 42 of its 69-strong fleet to the new standard, with options covering another 25 airframes.
Deliveries to France will begin in 2029, while Spain will take its lead example in 2030.
Upgrades to the current standard include new air-to-air and air-to-ground weapons, modernised avoinics and enhanced connectivity.

Dominic Perry is deputy editor of Flight International but also contributes extensively to flightglobal.com. Although specialising in the coverage of the helicopter industry, he has written on most topics in aerospace – be they commercial, defence or business aviation. In addition, there has been an increasing focus on the decarbonisation of the industry and zero-emission flight initiatives.
View full Profile