Airbus Helicopters is testing a series of upgrades for the H135 light-twin, including a five-blade main rotor and T-tail design.
First detailed by HeliOps magazine in mid-August, the enhancements appear to draw on some of the technologies validated by the airframer's Bluecopter technology demonstrator in the middle of the last decade.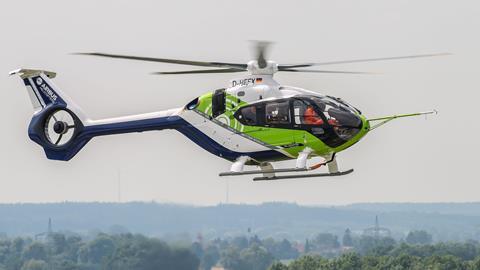 Besides the increased number of main rotor blades – up from four previously – the H135 prototype (D-HEEY) also features a T-tail configuration enabling removal of the horizontal stabiliser on the tail boom.
The structure surrounding the Fenestron shrouded tail rotor is also reshaped, with what also seems to be a larger-diameter fan.
In addition, the cabin appears taller with a larger windscreen and side window. The aft passenger window is absent, although it is unclear whether this has been omitted simply for the prototype testing.
The H135's engine air intakes and exhausts have also been modified and the rear of the fuselage now features large clamshell doors.
Airbus Helicopters says it is testing "new architectural elements", including "the five-bladed rotor that we successfully introduced on our H145 in 2019."
The airframer has previously upgraded the larger H145 with a five-blade main rotor, helping to increase the payload of the D3 variant by 150kg (330lb).
Despite that rotor being derived from the system tested aboard the H135-based Bluecopter, the airframer has frequently played down the prospects of a similar enhancement for the lighter helicopter.
Although many of the features seem to have made their way from the Bluecopter, there are notable absences including the aerodynamic rotor hub, hockey stick-shaped Blue Edge rotor blades and sculpted skid fairings.
Trials of the Bluecopter – a project part-funded by the EU's Clean Sky programme – ended in 2015 having validated an overall 10-15% performance improvement.

Dominic Perry is deputy editor of Flight International but also contributes extensively to flightglobal.com. Although specialising in the coverage of the helicopter industry, he has written on most topics in aerospace – be they commercial, defence or business aviation. In addition, there has been an increasing focus on the decarbonisation of the industry and zero-emission flight initiatives.
View full Profile