Airbus Helicopters has revealed a new clean-sheet concept rotorcraft to validate a selection of new technologies it hopes will collectively deliver a fuel-burn reduction of up to 50%.
Dubbed the DisruptiveLab, the single-engined helicopter (F-WADL) should make its first flight before year-end, the manufacturer says.
And despite its resemblance to existing models in Airbus Helicopters' line-up, the manufacturer stresses that it is a completely new aircraft.
"There is not one piece from another helicopter," says Tomasz Krysinski, vice-president research and innovation at Airbus Helicopters.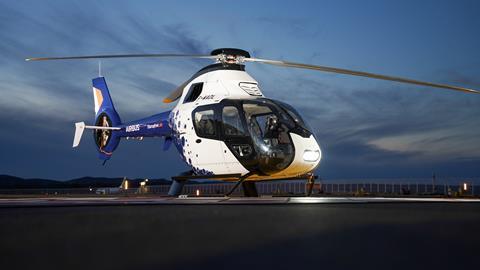 A clean-sheet approach was necessary to incorporate all the desired enhancements, he says. "If you don't design [them in] from the very beginning you don't get the capability," he says.
"We have reached the limits of what we can test if we had just based the demonstrator on an existing platform," says chief executive Bruno Even.
While it is not a programme in its own right, the DisruptiveLab will help Airbus Helicopters "facilitate the transition from innovation R&T to development", he adds.
Technologies under evaluation include a redesigned rotor head with inter-blade lead-lag dampers integrated into the hub, enabling a more compact design. As a result, drag from the rotor head is reduced 40%.
A new aerodynamically improved composite and aluminium fuselage, including highly integrated skid landing gear able to dampen ground resonance, has around 20% less drag than previous iterations, says Krysinski.
In addition, the DisruptiveLab features a slimline tail boom designed around a maintenance-free fully enclosed transmission.
Although retaining the airframer's distinctive Fenestron shrouded tail rotor, Airbus Helicopters has cut the number of parts in the system by 40% and reduced the size of the fan, the latter move enabled by the lighter, more aerodynamically efficient design of the rotorcraft.
Krysinski points out that for every 5kg (11lb) of mass reduction, 1kW less power is required from the propulsion system, in turn reducing the amount of torque the tail rotor needs to counter.
Additionally the DisruptiveLab is fitted with a parallel hybrid-electric drive system capable of recharging the batteries during in flight. "This will produce a very strong reduction in CO2 emissions," he adds.
Even says each of the manufacturer's main production sites contributed structures for the helicopter in line with its new industrial model. This sees each specialising in a particular section, such as the rear or main fuselage.
He declines to reveal suppliers for crucial elements of the design, such as the engine or hybrid system.
The DisruptiveLab is around the same size as Airbus Helicopters' existing H130-based FlightLab demonstrator, but Even points out that technologies being evaluated are scalable.
Separately, the airframer is continuing development of its emergency battery system (EBS) to assist with auto-rotative landings in single-engined helicopters.
System functionality has been "validated", says Krysinski, with Airbus Helicopters now working with the supplier "on the costs of this function and the mass of the global system".
"This is something that we want to get to [technology readiness level six] by the middle of next year. It is not enough to demonstrate something can fly – it must be affordable."