Airbus Helicopters saw orders and deliveries climb year on year in 2021 – helping it to take a preliminary 52% share of the civil and parapublic market – as the sector saw some recovery from the impact of Covid-19.
In total, the airframer logged 419 gross orders, or 414 net, compared with respective figures of 289 and 268 in 2020.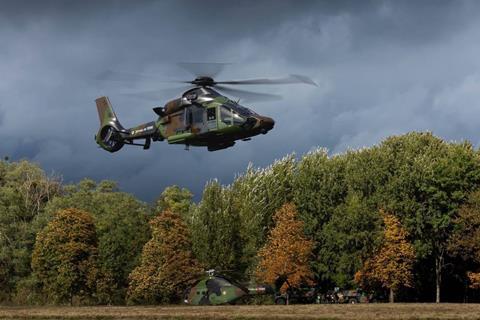 That was partly aided by commitments from the company's 'home' governments of France, Germany and Spain, which collectively ordered 94 helicopters, or 22% of the gross order total.
Those deals included 40 H160s for France – 10 for the Gendarmerie Nationale and the first batch of 30 M-model Guepards for the country's armed forces – plus a pair of H145s and eight H225Ms; 36 H135s for the Spanish interior and defence ministries; and eight H145s for the Bavarian police.
Both the French and Spanish orders were within the context of support packages for their aerospace industries.
Orders increased for every model in Airbus Helicopters' range year on year, except for the NH Industries NH90, for which no new commitments were recorded in 2021.
Sales of the H125 and H130 light-singles jumped to 147 and 48 units, up from 102 and 22, respectively, in 2020; the German-made H135 and H145 light-twins saw orders rise to 65 (33) and 93 (84); there were 52 (11) orders for the new H160; and 10 (four) for the Super Puma family – the H215 and H225.
In addition, the company booked four orders for the H175 – up from zero a year earlier – but continued slow sales of the super-medium-twin will likely be a cause for concern.
Deliveries rose to 338 in 2021, from 300 a year earlier, contributing to a preliminary market share of 52% for civil and parapublic helicopters with five seats and above. Shipments included the first H225M to Singapore, plus the initial H160 to Japan's Al Nippon Helicopter.
However, the new medium-twin H160 has yet to enter service and has still not secured its crucial US certification.