NATO's next-generation helicopter will need a maximum take-off weight (MTOW) of up to 17t if high-speed continues to be a priority while also seeking to maintain current payloads, according to preliminary calculations by Airbus Helicopters.
Under the alliance's Next Generation Rotorcraft Capability (NGRC) initiative a group of six nations are exploring the potential for a future multi-national programme to replace up to 1,000 helicopters in the coming decades in the 8-15t range.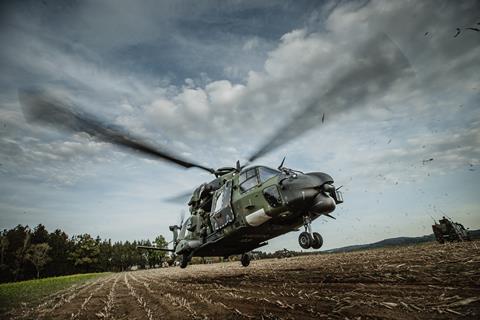 Preliminary design attributes released in 2021 called for a helicopter whose cruise speed should "optimally" be 220kt (407km/h) or more, but no lower than 180kt. Radius of action was pegged at 400nm (740km), maximum range 900nm, and MTOW at between 10-17t.
But Mathieu Louvot, executive vice-president, head of programmes at Airbus Helicopters, says that if operators want to achieve all those performance targets then "physics" will inevitably lead to an aircraft at the upper end of the weight range.
"This leads to 16-17t [MTOW] platforms in order to carry the same type of payloads that the helicopters carry today," he told journalists at the manufacturer's headquarters on 18 May.
Louvot argues that "much bigger machines" than those they are replacing will be required, leading to "a lot of consequences" on cost, logistics, the footprint of the helicopter, and the level of noise generated.
He estimates it will cost 25-30% more to carry the same payload over a given distance if high-speed is required. Cost concerns could then lead to other attributes being sacrificed in the quest for affordability.
"So it is not obvious that speed is the most important thing and that everything should be sacrificed to it," says Louvot.
In his view, all high-speed architectures lead to a degree of performance trade-off, whether that is in low-speed handling, affordability or survivability.
Airbus Helicopters argues that its Racer compound architecture – which features twin V-wings and pusher propellers in addition to the main rotor – could offer a "very good technical answer" if speed turns out to be the "most important thing".
Louvot acknowledges that the configuration of the Racer – which is an EU-funded civil technology demonstrator – is unlikely to be suitable for certain military missions given the position of the wings and propellers and consequent reduced field of fire for door gunners, or tighter cabin access for troops.
But he believes these are not insurmountable problems. "There are tweaks we can do to this architecture to accommodate military needs. They don't change the whole architecture of the aircraft, it's more local adjustments that can address them."
Indeed, the current Racer configuration may be better suited to the attack mission, for example.
Louvot stresses that those leading NGRC must clearly define their priorities in order to allow industry to respond with the best solution.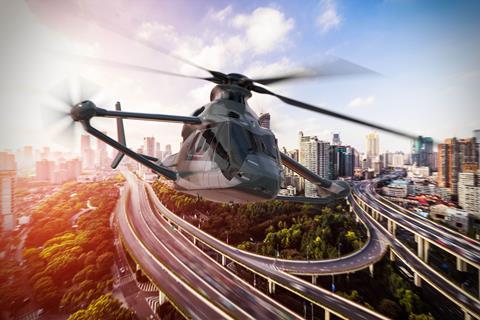 The NGRC project began in November 2020 with the signature of a letter of intent between France, Germany, Greece, Italy, and the UK, later joined by the Netherlands.
Those six nations are assessing a memorandum of understanding for signature around mid-year which will allow work to begin on the NGRC's concept stage.
Louvot asserts that it is important for Europe to develop its own solutions for next-generation rotorcraft, rather than simply buying into the Washington's Future Vertical Lift programme, which is geared around the US military's specific requirements.
"It is important for independence and autonomy of Europe to defend itself in all kinds of situations," he says.
Meanwhile, Airbus Helicopters and partner Leonardo Helicopters continue to wait for a response from the European Defence Fund (EDF) to proposals submitted last year under the European Next Generation Rotorcraft Technologies (ENGRT) framework.
Work under the first phase of the initiative – designed to mature the technologies required for future rotorcraft – will conclude in the coming months, with a tender for a follow-on project likely to be launched this year or in early 2023, which could culminate in flight demonstrations.
Although those technologies could support the development of a clean-sheet helicopter, Louvot points out that they could also be applied as an upgrade to existing platforms such as the NH Industries NH90, in which both Airbus and Leonardo are shareholders.
Louvot says the project has so far received double-digit millions of euros from the EDF. No budget has been allocated for future phases, but he says this will be decided in the "next couple of years" depending on the outcome of the earlier effort.
If nations want to concentrate solely on upgrades, this could be achieved at a lower cost, he says, but believes there is the political will to go further.
"A demonstrator is the next step – it's not a full programme. If you consider the European nations we speak about, even just the home countries of Airbus – Germany, France, and Spain – there is clearly the capability if there is the political will and the military need, to co-finance a demonstrator it is affordable for these nations."