Airbus Helicopters has selected Broughton in North Wales as the location of the final assembly line for the H175M should the super-medium-twin be selected to replace the Royal Air Force's Puma HC2 fleet.
Airbus already has a substantial industrial presence at Broughton, with the site manufacturing wings for the vast majority of commercial aircraft produced by the company.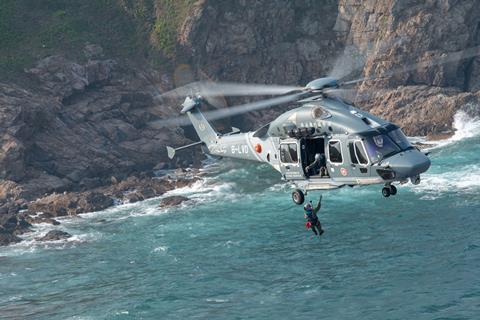 In March, the UK Ministry of Defence (MoD) announced it planned to retire the Puma fleet from the middle of the decade, replacing it and three British Army-operated types under its New Medium Helicopter (NMH) programme.
While details of the capabilities required from the NMH are still vague, Airbus Helicopters has indicated it plans to offer the H175M – a new military variant of a 7.8t rotorcraft that has previously only been sold in the civil market.
Colin James, managing director of Airbus Helicopters UK, said during a 10 September media briefing ahead of next week's DSEI exhibition that as part of its "evaluation process" Broughton had been "identified as the best industrial location for the project".
Basing the final assembly line at its existing site will allow the helicopter division to "benefit from all the commercial manufacturing and supply chain knowledge from the bigger Airbus group", James says.
He anticipates that a final assembly line for the H175M could be established within 12 months of contract signature.
Although initially building H175Ms for the UK, James stresses that the site will also assemble examples for the export market, which he believes could number around 250 aircraft over the coming years.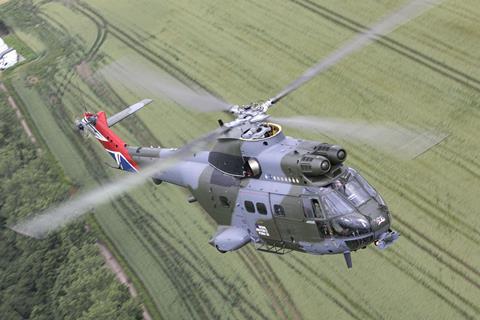 James also points out that having another advanced helicopter manufacturing facility in the UK will allow the country to take an advanced role in NATO's emerging Next Generation Rotorcraft Capability project. Led by seven European nations, this is seeking to develop a clean-sheet military helicopter for the 2040s.
In its Integrated Review paper in March the MoD said it was aiming to retire the 23-strong Puma fleet to by mid-decade. However, James believes the process will be accelerated "due to budget constraints", with the Pumas leaving service around 2023 and the ministry accepting "a capability gap for as short as possible".
Deliveries of the NMH would then begin from 2025, leading to a "deployable capability" in the 2027-2028 period.
That timeline would also drive the need for a procurement decision by the end of next year "if aircraft need to go into service in early 2025", says James.
The MoD is currently developing the NMH requirements. "My understanding is that they are well advanced and in the upper echelons of the decision-making process," he says.
Airbus Helicopters will face competition for the NMH from Leonardo Helicopters with the AW149, which it intends to build in Yeovil. In addition, Sikorsky could offer the UH-60/S-70i Black Hawk.