Airbus Helicopters is adding two new variants to its H125 family of helicopters.
The company on 24 April said it would introduce militarised attack and utility configurations of the H125 single-engined civil helicopter.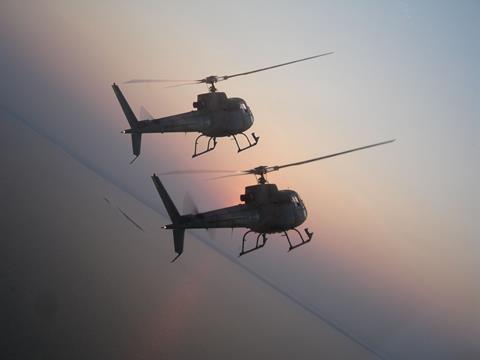 "The new offerings complement the extensive line of military helicopters already produced by Airbus, including the H125M," Airbus says.
The armed variant will be designated the AH-125 Ares, while the utility variant will be known as the MH-125 Ares. Scott Tumpak, vice-president of military sales for Airbus's defence business in the USA, says the new types represent the "latest evolution" of the H125 line.
"The AH-125 and MH-125 Ares helicopters will offer the capability, reliability and flexibility needed by America's allies and partners as they perform an array of rotary-wing missions, ranging from light attack to disaster response and other parapublic missions," he says.
Airbus says the rotorcraft will also be able to perform air assault, search and rescue and casualty evacuation missions. Both Ares variants will be produced at the current Airbus H125 assembly plant in Columbus, Mississippi.
Airbus does not yet have any orders for the new militarised airframes, but Tumpak says the company sees the AH-125 and MH-125 as filling an "open niche" in the market for military helicopters.
"There's not a single-engined aircraft on the market that offers international users an easily reconfigurable and multi-mission capability," Tumpak says.
Airbus says the Ares can be "easily re-configured" for its various mission sets in under 30 minutes.
Weapons installation, engineering and certification for the AH-125 will be overseen by Virginia-headquartered MAG Aerospace. Armaments available under the programme include a .50 calibre (12.7mm) machine gun, unguided rockets and precision weaponry.
Despite plans to produce the Ares rotorcraft in the USA, Airbus says the US Department of Defense (DoD) will not be the focus for Ares sales.
"We don't see any requirements with the US Army or with the DoD for this platform," Tumpak says. "This is targeted for export, be that [foreign military sales] or direct sales of aircraft made in Mississippi."
Airbus is currently the prime contractor for the US Army's fleet of 480 UH-72 Lakota utility helicopters. The type is a militarised version of the company's H145 twin-engined craft.
The US Army is currently developing its next-generation aircraft under the Future Vertical Lift initiative. The Bell V-280 Valor tiltrotor was recently confirmed as the final choice for the service's future troop carrier and utility-lift type, eventually replacing the Sikorsky UH-60 Black Hawk.
Bell and Sikorsky are still in competition for a separate design, known as the Future Attack Reconnaissance Aircraft.