Airbus Helicopters has performed the first flight of a helicopter with 100% sustainable aviation fuel (SAF) powering one of its two engines.
Departing from the airframer's site in Marignane in the south of the France, the H225 heavy-twin ran one of its Safran Helicopter Engines Makila 2 powerplants on SAF derived from used cooking oil.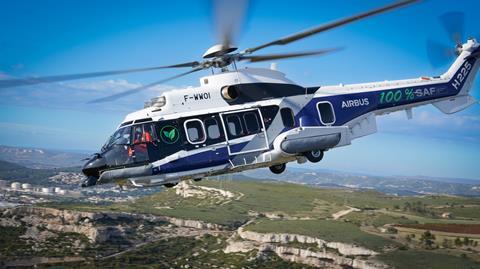 The sortie marks the start of a flight-test campaign to assess the impact of unblended SAF on the helicopter's systems as it seeks to certificate percentages in excess of the current 50% limit.
"While all Airbus helicopters are certified to fly with up to a 50% blend of SAF mixed with kerosene, it is our company's ambition to have its helicopters certified to fly with 100% SAF within the decade.
"Today's flight is an important first step towards this goal," says Stefan Thome, executive vice-president, engineering, and chief technical officer at Airbus Helicopters.
Safran has previously conducted bench tests at its Bordes plant using unblended SAF.
Airbus Helicopters has additionally launched a SAF user group to drive its adoption. The manufacturer has also started using the fuel for training and test flights at its French and German sites.