Airbus in 2023 will begin flight tests of a new sense and avoid system integrated onto its H130-based Flightlab helicopter, as it works to mature autonomous technologies to increase operational safety on current and future platforms.
Led by the group's UpNext division, the initiative, called Vertex, will build on activities already conducted by Airbus Helicopters.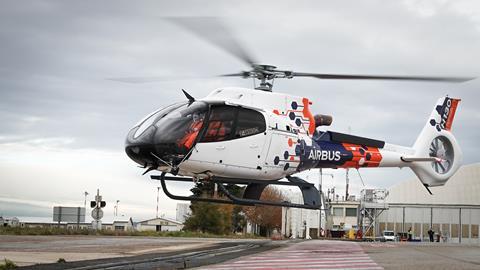 This includes previous tests of its Eagle system, which used a trio of gyrostabilised cameras, data processing and image recognition capability coupled to the autopilot to enable automated approaches.
Algorithms and advanced image processing allowed the automatic recognition of features, such as the H of a helipad, from distances of up to 2,000m (6,560ft) away at shallow approach angles.
Eagle was trialed on an H225 heavy-twin three years ago, and was due to lead to a product being available across the range by 2021.
However, advances in sensor technology and computing power should enable the "mass and cost of operation" of such a system to be cut, says head of research and innovation Tomasz Krysinski. New iterations of image processing algorithms will gain more maturity with Vertex, allowing industrial applications in the medium timeframe.
Vertex will incorporate electro-optical and infrared cameras alongside a Lidar sensor supplied by automotive specialist Luminar.
A pair of high-powered computers will be integrated into the Flightlab helicopter – one for the sensor suite and image processing, and the other for the avionics – plus fly-by-wire controls. Also forming part of the overall package is an advanced human-machine interface which incorporates a touchscreen display and smart-type glasses for the pilot to show certain parameters.
Integration activities have already begun, and flights using some of the equipment are planned ahead of 2023 in order to begin gathering data.
Next year will see the installation of a third pilot seat in the H130, the occupant of which will use a fly-by-wire joystick to control the helicopter.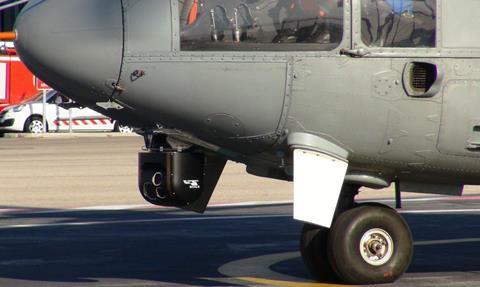 Severin Dauvergne, head of the Vertex demonstrator, says that Eagle was "mature from the beginning", enabling test flights to be halted after just 10h. He anticipates a similar level of performance from Vertex: "We expect it to also be right first time," he says, which will be enabled by extensive ground-based simulations.
In all, "less than 20 hours" of flying should be required, says Dauvergne, as the manufacturer looks to take the system to technology readiness level 6.
Significant emphasis will be given to low-speed, low-altitude operations where there is "more opportunity to meet obstacles", says Dauvergne.
Airbus emphasises that Vertex does not have "autonomy as a target in itself" but instead is a means "to explore autonomous technologies alongside other technological innovations".
Grazia Vittadini, Airbus chief technology officer, says that the airframer's ambition from the project is to "significantly increase safety margins" through reducing crew workload and cognitive overload and providing enhanced situational awareness.
With the sensor suite and computing capability coupled to the autopilot, the system will be capable of managing navigation and route preparation, performing automatic take-offs and landings, as well as following a predefined flightpath.
Should an obstacle be detected, either the system will take avoiding action, while warning the pilot that it is doing so, or the pilot can initiate the manouevre through double tapping the tablet.
Airbus says the installation of a joystick and full fly-by-wire controls, using an "active trim system", on the helicopter is to enable the Vertex system to be tested on the Flightlab platform and as a "techno brick" to evaluate the flight controls of future electric vertical take-off and landing aircraft. However, "it is not aimed at developing a system that could be retrofittable".
Krysinski notes that two previous outputs from its research and technology efforts will be available to customers shortly: a Lidar-based Rotor Strike Alerting System and a digital health and useage monitoring system for small helicopters.