Mitch Snyder seems relaxed, confident even. Of course, it is hard to be sure over a blurry web meeting, but the Bell chief executive, now into his sixth year in charge, definitely seems on upbeat form.
That sunny outlook comes despite the pressures of the coronavirus, which saw deliveries slip at the US manufacturer last year, albeit that its civil and parapublic market share increased. Orders, while reduced, did pick up in the final quarter, he says.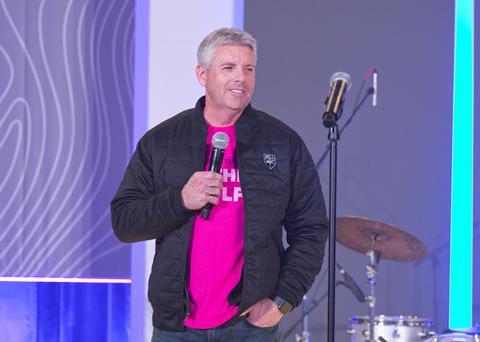 But Snyder argues that what he saw from his company in the face of the Covid-19 pandemic is in part responsible for his positivity.
Lockdowns, working restrictions, and all the other attendant disruptions were handled with aplomb. Maybe it is a manifestation of the 'don't mess with Texas' attitude of Bell's home state, or simply a determination to support its customers, the "warfighters and first responders" as Snyder puts it.
Equally, there appears a degree of paternalism in Snyder's management style. He is a long-term Bell veteran, joining in 2004, who had seen employee numbers slip from a high of 12,000 down to around 6,000 when he took the reins.
"When I took over it was in kind of a tough place at the time," he says. "We'd had so many reductions in force."
Yet the first meeting he had on taking over was with representatives of the company's four main workforce unions. "They said it was the first time they had been in the CEO's office," he remembers.
That rapprochement with the unions was part of a broader attempt to change the company's culture, he says, for example, instituting a working pattern that sees employees have every other Friday off, and introducing an on-site healthcare clinic. He describes the moves as fostering "a culture of empowerment, a culture of caring".
All that meant that when Bell said it was an essential business and allowed to stay open through the pandemic, the workforce was onside with the decision. "Everyone bought into what we were doing. We have been building that trust and respect over the last four to five years," he says.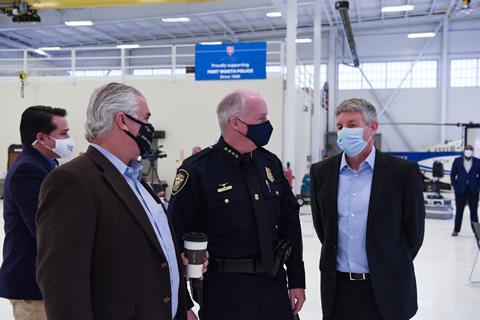 Snyder is loath to criticise the approach taken by his predecessor John Garrison, simply noting that the relationship between management and workforce in the 2009-2015 period "may have caused some hard feelings". But he says that fostering a more inclusive atmosphere is "something I care very much about", part of showing that he is "a different leader".
"For me there is no difference between salaried workers and factory workers," he says. "I knew the culture I wanted and how I wanted [Bell] to be."
There was no formal interview process for the top job: the succession planning at parent company Textron saw Snyder simply offered the role on Garrison's resignation.
"But having been here [since 2004] it was very clear in my mind what direction I wanted to take the company when given the reins."
But hand in hand with the changes to the workplace, Snyder was also keen to bring back Bell's boundary-pushing spirit: "I wanted our company to go back and get excited about the future: we are pioneers and innovators."
Bell's list of accomplishments is legion, of course – the supersonic X-1 being the most famous. But over the years it felt like some of that pioneering spirit had withered away. Sure, there was the V-22 developed with Boeing, but aside from that, Bell seemed to have become a little staid; it was too cautious, too reliant on the US Department of Defense to keep sales just ticking over.
Snyder's approach has undoubtedly been different. First, an automotive industry-apeing concept helicopter, the FC-X, was revealed. Then Bell became the first aerospace company to exhibit at the Consumer Electronics Show. And next came Nexus, as the firm's futuristic approach to the urban air mobility (UAM) segment was unveiled.
Oh, and if that was not enough, the word "helicopter" has been erased from the company's name, part of a rebranding effort that Snyder has instituted to transform Bell into what he describes as a "innovative technology company".
So rather than drawing comparisons with Sikorsky or Airbus Helicopters, Snyder wants to be benchmarked against tech giants like Google or Apple; "I want to be a disruptor," he says.
"I really don't compare myself and look at those guys that much," he says of his traditional rotorcraft rivals. "We don't compare our strategy and vision against what they are doing."
While that might sound arrogant or dismissive it is not meant as such – you know that Snyder will feel it sting like lemon juice in a cut should Bell lose a contest to one of its rivals – simply that his goal is to reposition the company for the long term.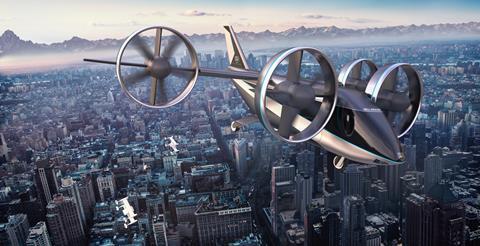 That outlook colours Bell's product strategy too. Snyder says he wants to get away from the creative straitjacket imposed by traditional thinking about what a manufacturer's range should look like: spanning a short-light-single at one end and a heavy-twin at the other, plus everything in between.
"The days of going through each of the versions and breaking down the whole rotorcraft business into each of those segments is not how I'm looking at it."
Spend too long trapped with this rigid mindset, he says, and all that will happen is the "disruptors will come in and take everything".
Even when an airframer brings a new type to market, that generally serves as a replacement for an existing product – "recycling in the new", as Snyder puts it, rather than spurring new growth.
The real question Bell is striving to answer, he says, is "in 10 years, what will the market really look like?"
There is, he argues, potential for significant growth if demand for unmanned logistics and UAM vehicles take off. Bell has been positioning itself for both, test flying its Autonomous Pod Transport and working on its Nexus air taxi concept.
Nexus, launched in 2019, has yet to transform into a true development programme, however. Bell has several options on the table: full- or hybrid-electric powertrains, plus an architecture that uses four or six ducted fans depending on the range or payload required. Further variations are also in the works as the airframer tweaks the concept.
"We are evolving that electric flying vehicle," says Snyder, "but it's not the product that is going to market. Right now, for us, Nexus is our way of saying that we have an advanced air mobility system."
Snyder is also coy as to whether Bell will actually fly a demonstrator. There is, he says, "no firm date" for a first flight and instead it is "concentrating on different aspects" of the design.
He also points out that with as yet no roadmap in place from the US Federal Aviation Administration (FAA) towards certification for such vehicles, it remains difficult to finalise any design.
For all Snyder's push towards innovation and his embracing the Silicon Valley ethos – where a willingness to fail is seen as a vital part of the development process – that sounds awfully like the sort of cautious approach a regular aerospace business might espouse.
It is a tricky line to walk though: do you rush head-long like others are and promise service entry over the next few years, or take a more incremental, wait-and-see approach?
As Snyder views it, there is little point being first to market if your vehicle cannot actually be used for its intended purpose.
"Just think about how long it has taken and how much it has cost to get the latest rotorcraft certificated. I don't think the FAA or EASA will change much here."
And this is where Bell's pedigree and history are very much to its advantage: while start-ups may still be "figuring out" how to navigate the regulatory landscape, "we have been doing it for 85 years: we know how to talk to the FAA", he says.
Of course, the UAM market may not fully blossom for a decade or more. Snyder is under no illusion that the traditional helicopter will remain relevant for some time yet "unless there is a huge [technological] breakthrough" that allows new vehicles to match the payload and range of current rotorcraft.
Therefore, unless Bell wants to cede market share over the next 10 years, keeping its current range up to date is still needed.
Over the years a product refresh has usually involved a new avionics suite or an improved engine; witness the iterative development of the 412, a helicopter that entered service 40 years ago but which has progressively gained a Scrabble bag of letters after its model number – from SP, to HP, EP, EPI and EPX – and still remains relevant.
While this will still undoubtedly happen somewhere in Bell's range, there are signs that more disruptive upgrades are being contemplated.
For instance, Bell has since 2019 been flying an electrically-driven tail rotor system called EDAT aboard a modified 429 light-twin. That effort has allowed the company to prove both that the technology works and that it delivers the predicted benefits, particularly around lower noise levels.
Snyder is keen that EDAT is brought to the market, but remains tight-lipped on how, beyond teasing that "we are working on definitely incorporating that into a product."
Next to arrive through will be the 525 super-medium-twin. The Relentless has had a rocky time in the decade since it was launched, including a fatal crash and a schedule that has slipped ever further to the right. All things being well, it should finally enter service this year or next, although Bell is still declining to offer a firm timeline (partly because the speed of approval hinges on the FAA).
The 525 should be a hugely capable helicopter once it is finished – the first civil rotorcraft with fly-by-wire controls – but over-capacity in the oil and gas segment, one of its key target markets, raises the question of how strongly it will sell.
While Snyder says the 525 will be a "fantastic helicopter" in its own right, its genesis is enmeshed with Bell's overhaul of its design and manufacturing processes. That change "laid the groundwork" to enable the airframer to "go fast" on other projects: notably the V-280 tiltrotor and 360 Invictus (the latter also leverages the rotor system from the Relentless).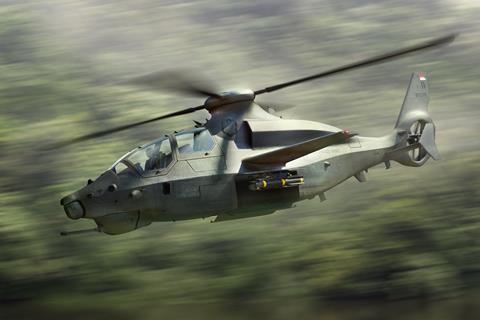 Those two designs are competing in a pair of US Army contests – FLARA and FARA, respectively – as the service bids to modernise its rotorcraft inventory with high-speed aircraft under its Future Vertical Lift (FVL) initiative. As you might expect, Snyder is confident about victory in both, declining to discuss a hypothetical situation where Bell wins neither: "I don't ever think about not winning," he says.
But winning one contest, let alone both, is hugely important: thousands of airframes will be required for the domestic market, with export opportunities a given, not to mention lengthy service and support contracts. Plus, a commercial derivative of either design becomes financially so much easier when you already have an extremely strong sales base on which to build.
Nonetheless, Snyder says there are plenty of options for its next civil helicopter regardless of what happens in FVL, including the potential for a clean-sheet design – it already has ideas in the works, he says – or even something in the UAM space.
"There are whole bunch of other things in development that we haven't shown yet," he says.
But ultimately this will be driven by what his customers want, he says. And that, in turn, may well hinge on what the public want, or "how people in the future want to move in a clean world".
With traditional rotorcraft designs to remain relevant even as new markets for alternative architectures emerge, having both "covered off" will stand Bell in good stead, Snyder says, even if things do not pan out quite as planned.
"It could look different, but it's exciting times now."