Hindustan Aeronautics (HAL) and Argentina's defence ministry have signed a letter of intent (LoI) related to a possible helicopter acquisition.
The agreement covers both the 3t Light Utility Helicopter (LUH) and 5.5t Dhruv, according to HAL.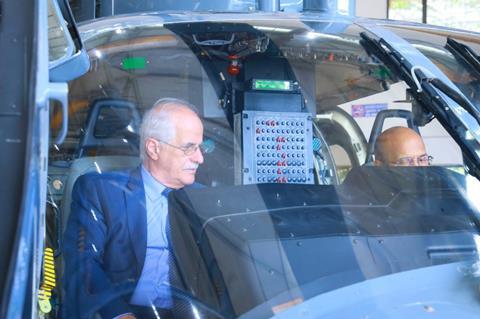 The pact was signed at HAL's headquarters in Bengaluru between Argentine defence minister Jorge Taiana and HAL chairman CB Ananthakrishnan.
HAL did not disclose the number of helicopters potentially involved but indicates that Argentina will have some involvement in production.
Other details HAL omitted are the Argentine services that will operate the rotorcraft, as well as the specific mission sets.
An Argentine defence ministry statement about the LoI was similarly light on details.
Cirium fleets data suggests that Argentina's air force, army and navy operate a combined 95 rotorcraft, with an average fleet age of 44.3 years.
The most prominent type is the Bell UH-1H flown by the Argentine army, with 27 examples in the baseline UH-1H configuration and 22 in the UH-1H "Huey II" configuration. The average age of this combined fleet is 50.9 years.
Argentina also operates other Bell types, in addition to rotorcraft from Airbus Helicopters, Leonardo Helicopters, MD Helicopters, and Sikorsky. The youngest rotorcraft in its fleet are six Bell 412s operated by the Argentine air force, with an average age of 9.3 years.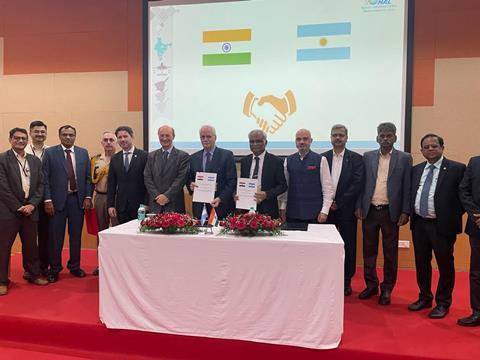 There are 400 Dhruvs in service, mainly with the Indian military. International customers include Mauritius, the Maldives, and Nepal. In South America, Ecuador formerly operated the Dhruv, but retired the type in 2015 after a string of crashes.
The LUH is in the process of entering Indian military service, having received its initial operational clearance from the Indian army in 2021.
During Taiana's visit he also observed a flying display of HAL aircraft, including the Tejas Mk1A Light Combat Aircraft (LCA). Online speculation during Taiana's visit suggests a potential order for the LCA could take place.
In February, Ananthakrishnan told FlightGlobal that Argentine pilots had flown the LCA in Bengaluru.