The US Army confirms it has delayed a decision about which aircraft will replace its fleet of Sikorsky UH-60 Black Hawks.
That was the word from Washington DC on 10 October, where top leaders in the US Army gathered for the annual Association of the US Army (AUSA) conference.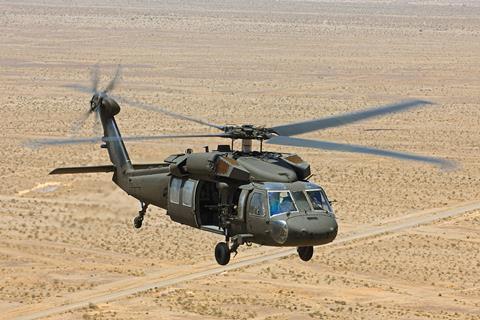 Speaking to reporters, senior army uniformed officers and civilian personnel said the timeline has slipped for selecting a winner of the Future Long Range Assault Aircraft (FLRAA) competition. FLRAA is the army's programme to develop and aircraft that will replace its UH-60s.
"We are in a quiet period for FLRAA", says Rodney Davis, the army's acting deputy programme executive officer (PEO) for aviation. PEOs are Pentagon officials who oversee the acquisition and fielding of new equipment for the US military.
The army previously planned to select the winner of the FLRAA contract in September.
"We're working through a very event-driven, but rigorous process to get that decision," Davis says.
Textron-subsidiary Bell and Lockheed Martin's Sikorsky are the two finalists for the FLRAA contract. Both companies are also finalists in a separate competition to replace the retired Bell OH-58 Kiowa scout helicopter.
Known as the Future Attack Reconnaissance Aircraft, the Kiowa successor programme has not yet entered flight testing. Together, the two aircraft procurement efforts are part of the aviation modernisation effort known as Future Vertical Lift (FVL).
Representing thousands of airframes, billions of dollars in revenue and years of work, the stakes are high for Sikorsky and Bell. The army is expected to wind down its purchases of legacy aircraft like the Black Hawk in the coming years.
Service leaders have said the existing aircraft are nearing the end of of their lifespans, even with modernisation and retrofit efforts.
However, officials note that aircraft like the UH-60, which has been in service since the early 1980s, will continue fly with the army for years.
As to when a decision on the Black Hawk's replacement will be completed, service leaders are not revealing details.
"We are working through that, and expect we'll have a good decision in relatively short order," says Davis. "But we're not talking about exact dates at this point."