Australia will prematurely cease all flying operations with the NH Industries MRH90 Taipan, as it looks to accelerate deliveries of its replacement, the Sikorsky UH-60M Black Hawk.
"The Australian Defence Force's MRH90 Taipan helicopters will not return to flying operations before their planned withdrawal date of December 2024," says the Department of Defence (DoD).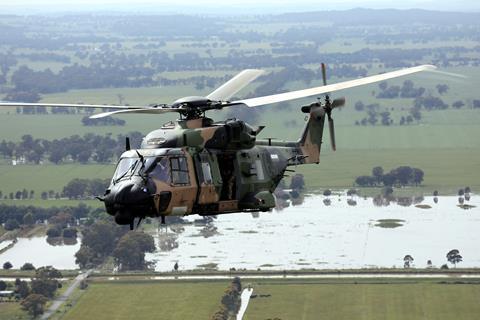 "The government remains focused on the introduction into service of the new fleet of UH‑60M Black Hawk helicopters. The first three Black Hawks have arrived in Australia and commenced flying in September, with the remaining Black Hawks continuing to be delivered."
Australia's MRH90 – the local designation for the NH90 – fleet has been grounded since late July, when a Taipan crashed in the sea during a military exercise, killing all four crew.
The July crash was the second major incident involving the MRH90 in 2023. In March, an MRH90 ditched in the sea off Australia's east coast, although in that incident the crew was rescued and the helicopter recovered.
"Today's announcement does not presuppose or any way suggest the outcome of the investigations into the tragic incident on 28 July, where an MRH90 Taipan impacted waters near Lindeman Island, Queensland during Exercise Talisman Sabre," says the DoD.
At the time, it said the MRH90 would not fly again until investigations were complete – a milestone now not expected until "well into 2024", the DoD discloses.
In January, Canberra confirmed it will replace the MRH90s with 40 UH-60Ms.
The MRH90 has had a dismal history in Australia, characterised by sustainment challenges and safety issues. In December 2021, Canberra announced that it would replace the type with the Black Hawk. At the time, former defence minister Peter Dutton described the Taipan's issues as "unresolvable."
Cirium fleets data indicates that Australia has 46 MRH90s following the 26 July crash. The average age of the fleet is just 10.4 years.
Australia is not the only country that has been disappointed with the NH90. In late 2022 Norway and Sweden announced plans to axe their NH90 fleets, citing a range of sustainment issues.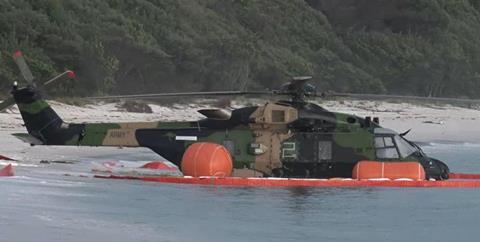 Another major operator, Germany, has also expressed displeasure with the platform. In January 2022, the country's Inspector General slammed the NH90 and Airbus Helicopters Tiger for their poor operational availability, labelling their performance as "unsatisfactory".
Canberra has also struggled with its Tiger fleet, which will also exit service earlier than planned. In January 2021, it announced that from 2025 it will replace the attack helicopters with 29 Boeing AH-64E Apaches under its Armed Reconnaissance Helicopter requirement.