An Australian Army NH Industries MRH90 Taipan has crashed in the sea off the northern state of Queensland, with all four crew missing.
"Defence can confirm an Australian Army MRH90 Taipan helicopter has impacted waters near Lindeman Island, off the Queensland coast," says Australia's Department of Defence.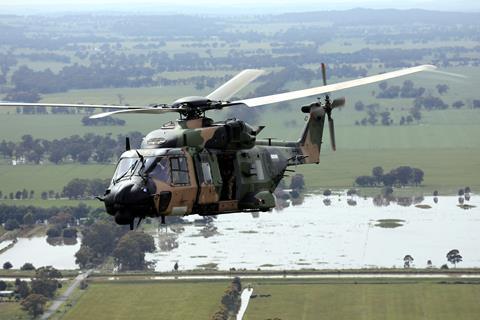 "The aircraft was participating in a night-time training activity as part of Exercise Talisman Sabre 2023 when it was reported missing late Friday night, 28 July 2023. Four crew were on board the aircraft at the time of the incident and are currently missing."
The MRH90 (the Australian designation for the NH90) was operating with another helicopter when the incident occurred, but the initial search failed to locate the four crew members. Both civilian and military assets are searching for the missing personnel.
"These are early days and there will be much more information to be provided about this incident," says Australian defence minister Richard Marles.
"But Defence exercises, which are so necessary for the readiness of our Defence Force, are serious. They carry risk. And as we desperately hope for better news during the course of this day, we are reminded about the gravity of the act which comes with wearing our nation's uniform."
The incident comes months after Australia temporarily grounded its MRH90 fleet when one of the rotorcraft ditched in the sea off Australia's east coast on the night of 22 March.
That incident occurred as the helicopter conducted a routine counter-terrorism exercise. All 10 personnel aboard were safe, and the helicopter, with its emergency flotation system deployed, was towed to a beach.
The MRH90 has been an extremely problematic platform for the Australian military, with sustainment proving to be a major challenge. In 2021, sustainment problems led to a temporary grounding of the local fleet.
In January, Australia confirmed it will partially replace its 47 MRH90s with 40 Sikorsky UH-60M Black Hawk helicopters.