An Australian Army NH Industries MRH90 Taipan helicopter has ditched on the east coast of Australia, leading to a grounding of the type.
The incident occurred in darkness as the MRH90 (the Australian designation for the NH90) conducted a routine counter-terrorism exercise, according to Australia's Department of Defence (DoD).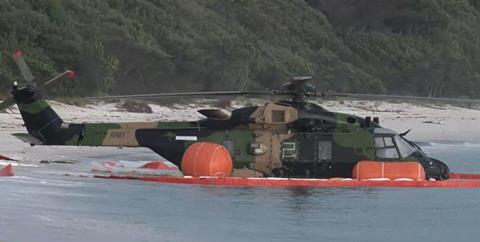 The DoD says that all 10 personnel – four crew and six passengers – aboard the rotorcraft during the incident are safe, although two suffered minor injuries.
Video from the Australian Broadcasting Corporation (ABC) shows the rotorcraft resting at the edge of Jarvis Bay, which lies to the south of the New South Wales town of Nowra. The helicopter's emergency flotation system is deployed. No damage to the helicopter is readily apparent.
In an interview with the ABC, Australian Army Major General Stephen Jobson said the incident occurred around 9pm on the evening of 22 March.
Jobson says that the incident aircraft and other helicopters had been working with small boats. The boats were able to render assistance to the helicopter's passengers and crew after they egressed from the ditched rotorcraft.
Jobson adds that one injury involved "a head bump" and the other "ingestion of seawater".
Witnesses told the ABC that they saw a "big flash" at the top of the helicopter and heard a "big bang".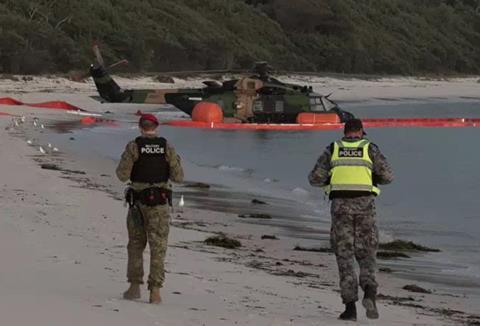 "Tonight, quick responses from [Australian Defence Force] personnel and emergency services and well drilled teams prevented a potential tragedy," says the chief of Australia's Army, Lieutenant General Simon Stuart.
"We will conduct a thorough investigation into this incident to determine the cause and ensure the platform remains safe to operate."
The MRH90 fleet will be grounded while the incident is investigated.
The MRH90 has been an extremely problematic platform for the Australian military, with sustainment proving to be a major challenge. In 2021, sustainment problems led to a temporary grounding of the local fleet.
In January, Australia confirmed it will partially replace its 47 MRH90s with 40 Sikorsky UH-60M Black Hawk helicopters.