Australia has grounded its NH Industries MRH90 fleet following what was likely to have been a fatal crash on the night of Friday 28 July.
Australian officials have confirmed that the type is grounded pending investigations, while the search continues for the four crew aboard the MRH90 (the Australian designation for the NH90) when it crashed in the sea off the northern state of Queensland during the Talisman Sabre military exercise.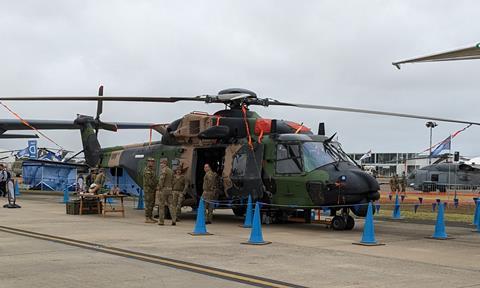 On 30 July, defence minister Richard Marles said that debris from the helicopter had been found, but that its main body had yet to be located. He added that a "major international effort" was underway to find the crew.
Both Australian and US warships are involved in the search near the Whitsunday Islands, along with specialist divers and parapublic assets. While there were currents, conditions were not hindering the search.
This the second time in 2023 that an MRH90 has come down in the sea. The first incident occurred on 22 March, when an MRH90 ditched in Jervis Bay, south of the Australian town of Nowra. In that incident, the four crew and six passengers were safe. The helicopter's emergency flotation system also activated, allowing it to be towed to a beach.
Speaking with reporters, Australian officials would not be drawn on the outlook for the MRH90 in Australian service, staying that the focus now is on the search and rescue effort. An investigation will also be conducted.
In an interview with the Australian Broadcasting Corporation on 31 July, minister for defence industry Pat Conroy said that the MRH90 had resumed flying in April after the earlier grounding.
"Operations were temporarily suspended to allow time for initial investigations to determine if there were any ongoing airworthiness implications, and flights resumed in April after extensive risk analysis and implementation of risk mitigation controls occurred," said Conroy.
"And it's really important to restate what the chief of army said yesterday that the army doesn't take unnecessary risks. The army mitigated those risks and declared the helicopter safe to fly."
The MRH90 has been an extremely problematic platform for the Australian military, with sustainment proving to be a major challenge. In January, Australia confirmed it will partially replace its 47 MRH90s with 40 Sikorsky UH-60M Black Hawk helicopters.