AVIC has operated the maiden sortie of its 13t AC313A civil helicopter, which features significant design updates from the original AC313.
AVIC social media accounts indicate that the maiden flight took place on 17 May. Images and video suggest the focus of the initial flight was hovering, turning, and low-speed flight.
Visually, the AC313A features an updated forward section, in addition to major changes in the layout of its three turboshaft engines, with exhaust nozzles clearly visible on either side, plus an exhaust nozzle at the back of a new boxy structure.
AVIC says the AC313A incorporates a completely new gearbox and a new engine.
The previous AC313 used Pratt & Whitney Canada PT6B-67A engines.
While AVIC has not stated the new engine for the AC313A, it is likely related to a version of the WZ6 that powers the Z-18 utility helicopter used by China's military. The WZ6 is a locally produced version of a Safran Helicopter Engines turboshaft, while the Z-18 itself was ultimately derived from the Aerospatiale SA321 Super Frelon.
The Aero Engine Corporation of China has displayed the WZ6C turboshaft at previous iterations of Airshow China in Zhuhai. It cited a power output of 1,740shp (1,300kW), and that applications for the engine include 11-13t helicopters.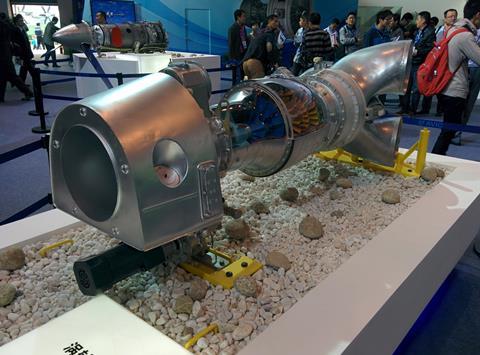 AVIC adds that the AC313A features HUMS (health and usage monitoring system), rotor anti-icing, and ability to carry 28 passengers. It states that the aircraft will be capable of operating at high altitudes, such as in Tibet.
With the first flight AVIC shifts from the trial production stage of development to flight testing.
It expects certification and delivery during China's 14th five-year plan, which runs until 2025.