Airbus Helicopters expects later this month to receive the crucial Avio Aero-built main gearbox (MGB) for its Racer high-speed rotorcraft, the final missing component holding up the demonstrator's first flight.
Developed under the EU-funded Clean Sky 2 programme, Racer uses a single main rotor coupled with twin pusher propellers mounted on V-shaped box wings.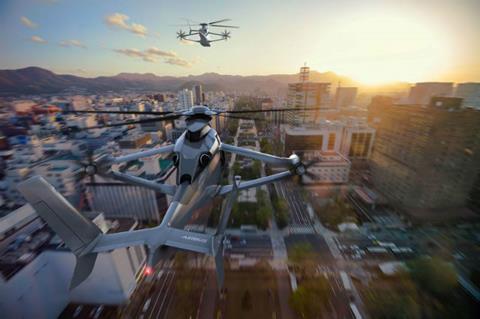 First flight has been repeatedly delayed, not least by the impact of the Covid-19 pandemic, but also through supply chain issues.
But Tomasz Krysinski, head of research and innovation at Airbus Helicopters, says "at the end of this month Avio Aero will supply the gearbox".
The component will then be subjected to rig tests before being mounted on the aircraft "at the end of May", he told the Clean Aviation Forum on 23 March.
The bearingless lateral shafts taking power from the MGB to the wing-tip-mounted propellers are already installed, he adds.
Additional inspections and instrumentation tests will be required "and then we move to first flight" later this year.
Key milestones completed recently are the power-on, which took place in December, and shake tests to ensure there is no ground resonance.
In addition to the novel architecture, the Racer is fitted with an engine stop-start system allowing one of its two Safran Aneto 1X powerplants to be idled – and rapidly restarted – at the aircraft's 190kt (350km/h) cruise speed. This should allow fuel consumption to be cut by around 20%.

Dominic Perry is deputy editor of Flight International but also contributes extensively to flightglobal.com. Although specialising in the coverage of the helicopter industry, he has written on most topics in aerospace – be they commercial, defence or business aviation. In addition, there has been an increasing focus on the decarbonisation of the industry and zero-emission flight initiatives.
View full Profile