Leonardo Helicopters has begun racking up test flights of the AW249 – the new attack helicopter it is developing for the Italian army.
A first flight took place at the airframer's Vergiate facility on 12 August, with the sortie lasting for around 30min and testing the helicopter's flight characteristics, sources indicate.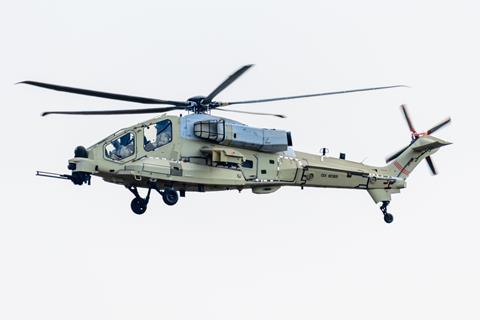 Initial manouevres included hovering in and out of ground effect, 360° turns during the hover, and slow forward and lateral flight.
Sources indicate that the AW249 has since conducted several more flights, perhaps as many as seven in total.
A second prototype is in final assembly and is due to roll out next month, sources suggest.
Leonardo Helicopters declines to comment on the milestone, citing customer confidentiality.
In fact, the maiden sortie appears to have come ahead of schedule. Presenting the aerospace group's half-year results on 28 July, chief executive Alessandro Profumo said the AW249 "would have its first flight in September".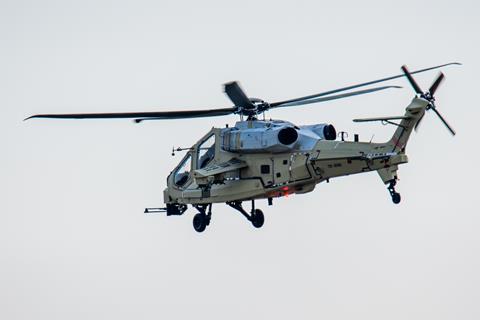 Destined to replace the Italian army's current fleet of AW129D Mangusta attack helicopters, the AW249 will enter service from 2025.
An initial five-unit development contract was placed in 2017, but Rome sees an eventual requirement for 48 helicopters.
The type is powered by twin GE Aviation CT7 engines, each rated at 2,500hp (1,860kW), and uses the dynamic components from the AW149 transport.

Dominic Perry is deputy editor of Flight International but also contributes extensively to flightglobal.com. Although specialising in the coverage of the helicopter industry, he has written on most topics in aerospace – be they commercial, defence or business aviation. In addition, there has been an increasing focus on the decarbonisation of the industry and zero-emission flight initiatives.
View full Profile