While UK-headquartered Babcock's defence credentials in Australia are clear – notably in the naval sector – the company hopes that its civil rotorcraft experience in the country will enable it to prevail in a three-way contest to supply Canberra with new special forces helicopters.
At the core of Babcock Australasia's prime contractor bid for the Project Land 2097 Phase 4 acquisition is the Bell 429. Given that a high priority is being placed on local workshare, Babcock has named 12 local companies to participate in the project.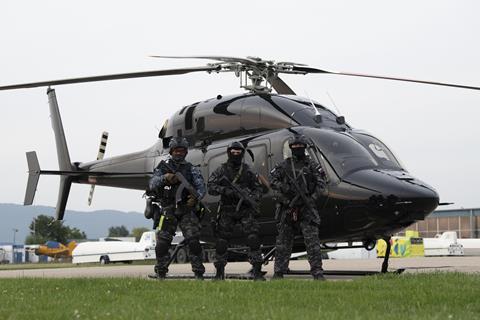 Babcock's rivals for the deal are Airbus Helicopters, which is pitching the medium-twin H145M and has assembled 20 partners in its "Team Nightjar" consortium, and Hawker Pacific, which has also based its pitch on the Bell 429.
The deal calls for 20 examples of an in-service type that can support Australian army special forces operations in urban environments. A key requirement is that four of the selected rotorcraft can fit into one of the Boeing C-17 strategic airlifters operated by the Royal Australian Air Force for rapid deployment.
Graham Nayler is executive director of strategy and future business at Babcock Australasia. He says that the company ran an extensive selection process before settling on the Bell 429.
He describes the 3.6t maximum take-off weight platform – 200kg (440lb) less than the H145M – as modern with good upgrade potential and supportability. Should Babcock win the competition, it will take green rotorcraft from Bell for modification work locally.
"We looked at everything from the actual platform itself and the ability for operations, particularly around [deploying via] C-17, and various mission profiles. It stood by itself when we looked specifically at the primary mission set, which was obviously special forces insertions for counter-terrorism."
From Babcock's perspective, other factors in the 429's favour are a simple maintenance regime and strong availability on the flightline. Separately, Bell has confirmed that four 429s can fit within a C-17, of which the RAAF operates eight.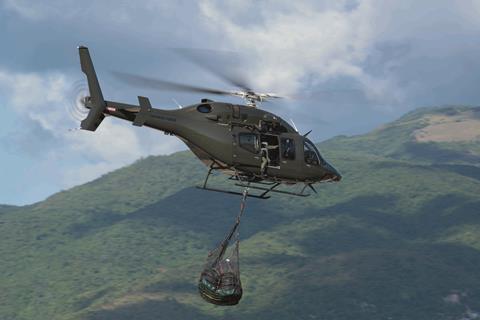 "For us it really came down to cost, capability and risk," says Nayler. "In the end, the 429 was the clear winner for us."
Rival Hawker Pacific also clearly saw enough potential in the same Canadian-built platform, and has centred its bid on the type.
"I won't comment as to what [Hawker Pacific] are doing and we have a great relationship with them," says Nayler. "But ultimately, as a service provider, this is about what we can do with the platform over life of type, with an evolving set of requirements, and be able to work in lockstep with [the Department of] Defence to ensure their requirements have been met. And to be honest, the aircraft is a small proportion, really, of the requirements… in this contract."
Nayler stresses that Babcock Australasia also derives experience and best practice from the global Babcock group, which has a large presence in areas such as defence MRO and training.
In addition to educational institutions and community organisations, Babcock has lined up 12 Australian firms to participate in its Project Land 2097 Phase 4 bid:
Airspeed Composites
Bend-Tech
Craig International Ballistics
Eagle Copters Australasia
FlightSafety International
HeliMods
L3Harris Technologies
Logistic Engineering Services
MMC Learning and Development (MMCLD)
Omni Executive
Praxis Aerospace
Virtual Simulation Systems
The company is also interested in Australia's Project Land 4503 Armed Reconnaissance Capability, under which Canberra aims to obtain 29 attack helicopters to replace the army's 22 Airbus Helicopters Tigers. Rivals for the deal will include the Bell AH-1Z, Boeing AH-64E Apache, and Airbus Helicopters, with a modernisation of the existing platform.
In this competition, however, Babcock would step back and play a supporting role to the big primes.
Babcock Australasia's civil and parapublic helicopter business already has a strong presence in Australia. It operates 30 helicopters, the majority of which are tasked with emergency medical services (EMS) missions, maritime and police surveillance work, plus operations in support of the offshore oil and gas industry.
The fleet is dominated by the Leonardo Helicopters AW139 (12) and Bell 412 (10), but also includes the Sikorsky S-92 heavy-twin, Airbus Helicopters H175, H125 and H130, and the MD Helicopters MD500.
Most serve parapublic missions, while a total of eight of the larger helicopters operate in the offshore segment.
The overall fleet is quite broadly dispersed across Victoria, Queensland and South Australia, although offshore support helicopters are clustered in Western Australia, Northern Territory and Timor-Leste (Dili).
The company provides EMS services within several Australian states. Darren Moncrieff is managing director of the company's aviation and mission critical services business across Australasia. He says that despite the coronavirus pandemic, the company has been able to keep EMS operations running smoothly.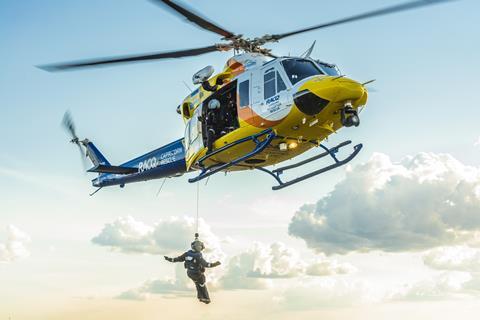 "We've been very, very much on the front foot, working with our customers to develop and implement protocols and procedures to ensure that we are able to remain capable of delivering the end service," he says. "I'm pleased to say that we have been able to continue to deliver without a blip, all of the services required for the various emergency service departments that we operate for here in Australia."
In addition, Babcock Australasia has benefited from the experiences of other parts of the company operating in the Northern Hemisphere, which the coronavirus pandemic impacted earlier than Australia. For example, early in the pandemic, the UK division's offshore business was required to provide a dedicated medical evacuation helicopter for suspected Covid-19 patients.