The Australian arm of BAE Systems says it will develop a new low-cost, precision-guided weapon system for Australia's armed forces.
BAE Systems Australia revealed the new sovereign munition initiative, which it calls "Razer", at the Avalon Airshow near Melbourne on 28 February.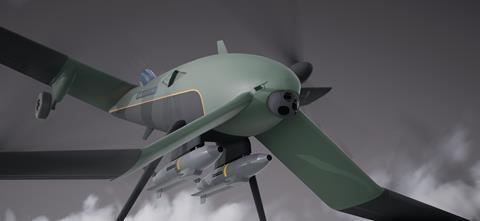 "Razer is a low cost air-launched precision-guided munition that is designed to transform a 40-50kg (88-110lb) standard non-guided munition into a precision air-launched weapon, at low cost," BAE says.
The kit, which will be manufactured in Australia, includes a wing body assembly and GPS-enabled tail unit for guidance. BAE says the new munition is applicable for unmanned combat air vehicles (UCAVs) and rotary-wing aircraft.
"Razer can meet urgent local and overseas demand for low-cost sovereign munition solutions that could be deployed from the air," says Ben Hudson, chief executive of BAE Systems Australia. "It could deliver a powerful and affordable battlefield strike capability for users globally."
The move is part of an effort to boost the domestic production of defence articles within Australia. The Royal Australian Air Force and Boeing are currently developing the MQ-28 Ghost Bat autonomous jet – the first combat aircraft to be developed and produced in Australia in 50 years. That aircraft was publicly revealed for the first time on 28 February at Avalon.
BAE also has plans to develop a new Australia-produced vertical take-off and landing UCAV the company is calling Strix.
Although decisions about the possible export of defence products such as the MQ-28 and Razer will be made by Canberra at a later date, the Commonwealth's industry partners are optimistic about the prospect.
"Design, development and production of these munitions will utilise our decades-long history of advanced manufacturing to establish and grow the country's domestic capability and export market," says Andrew Gresham, managing director of defence delivery for BAE Systems Australia.
The company notes potential export customers for Razer include the USA, the UK, Canada, Sweden, Norway and the Netherlands.
Precision munitions, and NATO's stockpile of such high-tech weapons, have recently become a major topic of discussion in Western capitals. The alliance and its members have sent thousands of such munitions to Ukraine's armed forces, in support of Kyiv's defence against a year-long Russian invasion.
The rate of munition consumption in that conflict has raised fears among defence officials and private sector executives that the West's defence industrial base lacks the capacity to adequately maintain ammunition supplies in a protracted conflict.
In the USA's latest military budget, Congress empowered the Pentagon to acquire thousands more precision strike weapons – both to continue supporting Ukraine and to expand the Department of Defense's own stockpiles.
Analysts say Washington and its allies would likely deplete such stocks within just a few weeks of an Indo-Pacific theatre conflict against China.
Australia and the USA are exploring unconventional solutions to the challenge, such as using air cargo assets to rapidly deploy ground-based precision munitions, such as Lockheed Martin's High Mobility Artillery Rocket System, to strike high-value targets deep behind enemy lines – a concept known as a fire raid.