Belgium has delivered stinging criticism of the NH Industries (NHI) consortium, blaming a lack of industrial support, low availability rates and looming costly upgrades for its decision to slash by 40% operations of the four NH90 troop transport helicopters flown by the Belgian Air Component.
Announced on 24 June, Brussels says the move was driven by the type's "limited operational output which is due to imperfect industrial support (which is threatened to reduce in the coming years), and the requirement for necessary but costly upgrades".
Among Belgium's chief complaints are the "very long lead times for the delivery of spares, the very long turnaround times for repairs and responsiveness related to engineering advice".
As a result, "operational output" has been "limited in quantity, not quality", says the nation's defence ministry. "With four helicopters we were able to deliver a very limited operational output only, during certain periods per year and provided there was a long lead-time." Low serviceability levels "worsened this situation", it adds.
The NH90 TTHs have an availability rate of just 38%, which "is very similar to the average availability of all NH90 users", says the defence ministry.
In addition, it expects support from NHI – which comprises Airbus Helicopters, Leonardo Helicopters and Fokker – will reduce in the future.
"Given the [multiple] configurations of the TTH variant [developed] during the execution of the programme, the industrial support will decline during the whole duration of the programme," it adds.
That issue has dogged the NH90 for many years, with executives repeatedly attempting to reign in the country-specific modifications which have added complexity for the industrial partners.
In addition, future upgrades are needed for "operational and legal reasons" which would take 18 months per helicopter, the ministry says.
NHI was unavailable to comment.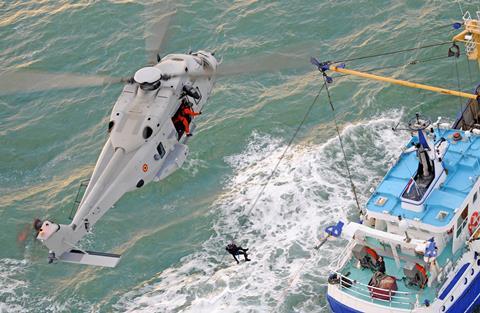 While Belgium also cites a lack of personnel as a reason for the future reduction in flights, it says there is no lack of TTH pilots. In fact "we will even have to reorient some TTH pilots to other platforms", it says.
This may include the four maritime NFH variants operated in support of the navy, which are now the ministry's "primary focus".
Options for the future helicopter support of the land forces, including medical evacuation missions, are still being studied, it adds.
Separately, Belgium has announced that it will "accelerate the retirement" of its three Israel Aerospace Industries B-Hunter unmanned air vehicles. These are plagued by "low availability" and "no longer meet the standards and requirements of current operational theatres".
"Early decommissioning will allow personnel to optimally prepare for the planned deployment in 2023 of the [General Atomics Aeronautical Systems] MQ-9B SkyGuardian and to strengthen other weapon systems," says the ministry.