The General Atomics Aeronautical Systems MQ-9B SeaGuardian has commenced a two-month validation campaign for the Japan Coast Guard.
The work's objective is validating the use of the MQ-9B to provide long-term, cost-effective monitoring of Japan's maritime domain, says the company, which is working with Asia Air Survey to conduct the flights.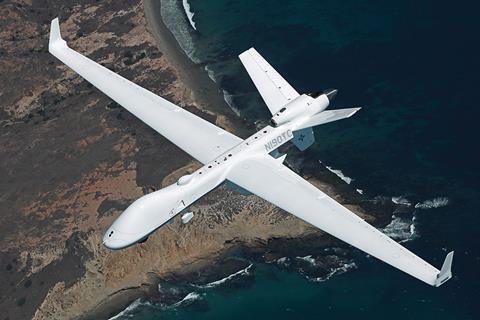 "We appreciate Asia Air Survey's support in demonstrating how the MQ-9B SeaGuardian RPAS [remotely piloted aircraft system] can provide affordable, long-endurance airborne surveillance of Japan's maritime domain," says General Atomics Aeronautical Systems chief executive Linden Blue.
"The system's ability to correlate multiple sensor feeds and identify vessel anomalies provides effective, persistent maritime situational awareness."
The SeaGuardian will be equipped with the Raytheon SeaVue surface-search radar.
"The SeaGuardian features a multi-mode maritime surface-search radar with inverse synthetic aperture radar imaging mode, an Automatic Identification System receiver, [and] a high-definition full-motion video sensor equipped with optical and infrared cameras," adds General Atomics.
"This sensor suite, augmented by automatic track correlation and anomaly-detection algorithms, enables real-time detection and identification of surface vessels over thousands of square nautical miles."
The work follows 11 civilian demonstration flights the company conducted in May 2018 from Japan's Iki Island, using a white and red MQ-9B Guardian. The company invested $6 million in the work, which it hailed as "the first demonstration of a long-endurance RPA [remotely-piloted aircraft] by a private company in Japan."
In a late 2018 interview, a General Atomics executive told FlightGlobal that the Japanese Coast Guard might require "a good-sized fleet", given the coverage area.
The 2018 flights required a range of approvals from government agencies pertaining to areas such as transmission frequencies and flight planning. A chase plane was also required. Among other things, the effort demonstrated the aircraft's ability to monitor shipping activity, with a focus on spotting activities such as illegal fishing, the harvesting of endangered corals, and smuggling.