The US government has cleared the sale of up to 12 General Atomics Aeronautical Systems MQ-9B SkyGuardian unmanned air vehicles to Australia.
The total potential value of the deal is $1.7 billion, according to a Defense Security Cooperation Agency (DSCA) statement.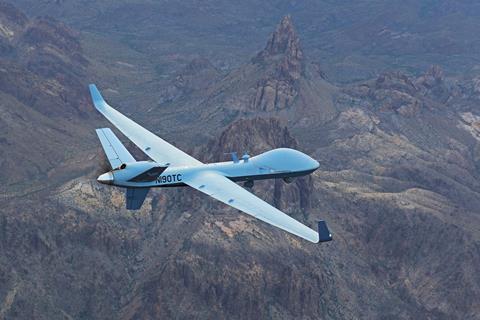 In addition to up to 12 MQ-9Bs, the package includes a number of additional systems. Sensors listed include a multi-spectral targeting system, synthetic aperture radar with ground moving target indicator, and communications intelligence gear.
Also listed are several ground attack weapons, as well as services and support related to the possible acquisition.
"The proposed sale improves Australia's capability to meet current and future threats by providing timely intelligence, surveillance and reconnaissance [ISR], target acquisition, locate submarine capabilities, and counter-land and counter-surface sea capabilities for its security and defense," says the DSCA.
"This sale will enhance interoperability between the US Air Force and the Royal Australian Air Force [RAAF]. Australia has demonstrated a commitment to modernising its military and will have no difficulty absorbing this equipment into its armed forces."
In November 2019, Canberra downselected the MQ-9B over the MQ-9A Reaper for its AIR 7003 requirement, to be operated by the RAAF.
While the MQ-9B SkyGuardian and MQ-9A Reaper offer similar capabilities, the MQ-9B was developed with cooperation from the US Federal Aviation Administration, allowing it to meet airworthiness certification standards in Australia and globally.
The AIR 7003 requirement had its genesis in Australia's defence white paper in 2016, which placed a strong emphasis on fixed-wing ISR.
Among other requirements, it called for a medium-altitude, long-endurance UAV capability to provide enhanced firepower and ISR support for a range of operations including counter-terrorism missions.