Vertical lift manufacturer Bell has delivered a test article to the US Air Force (USAF) that aims to demonstrate the company's novel concept for a jet-powered vertical take-off and landing (VTOL) aircraft.
The technology, which Bell calls High-Speed Vertical Take-off and Landing (HSVTOL) envisions a next-generation aircraft that combines flight characteristics of a helicopter, tiltrotor and fixed-wing jet into a single design.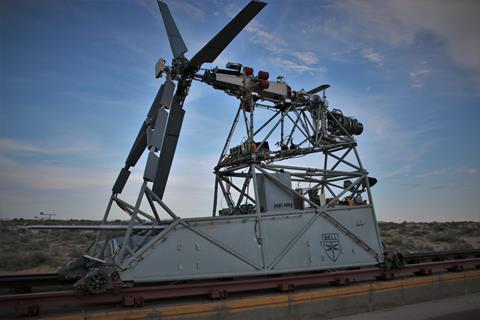 Bell on 13 September said it brought an HSVTOL propulsion test article to the USAF's high-speed test track at Holloman AFB, New Mexico, where the company hopes to demonstrate the technolgy's potential.
"The HSVTOL test article delivery and start of sled testing operations serves as a major milestone in our mission to develop the next generation of high-speed vertical lift aircraft," says Jason Hurst, executive vice-president of engineering at Bell.
The company tells FlightGlobal that the sled testing is being funded by Bell internally, with the goal of reducing engineering and development risks in the future. Hurst notes that Bell plans to eventually produce a flight-capable prototype of the HSVTOL concept.
At a tour of Bell headquarters in January, Hurst told FlightGlobal HSVTOL will represent something "brand new" in aviation.
The concept envisions an aircraft that looks like a tiltrotor while on the ground and in vertical flight mode. However, where current tiltrotors have only vertical and horizontal flight modes, HSVTOL would have a third, jet flight mode.
After reaching sufficient speed, the rotor blades would fold back into a more aerodynamic profile and the aircraft would fly like a fixed-wing jet.
The goal of HSVTOL, according to Bell, is to deliver an additional 100kt (185km/h) of speed over current tiltrotors – a category the Textron subsidiary pioneered with the Bell Boeing V-22 Osprey.
Currently, only a select few jet aircraft possess the related, but separate ability of short take-off and vertical landing. These include the Lockheed Martin F-35B variant of the fifth-generation stealth fighter and the Boeing AV-8B Harrier II.
Bell says the objective of the sled tests at Holloman is to validate some of the key HSVTOL technologies, including the folding rotor, integrated propulsion and flight control technologies.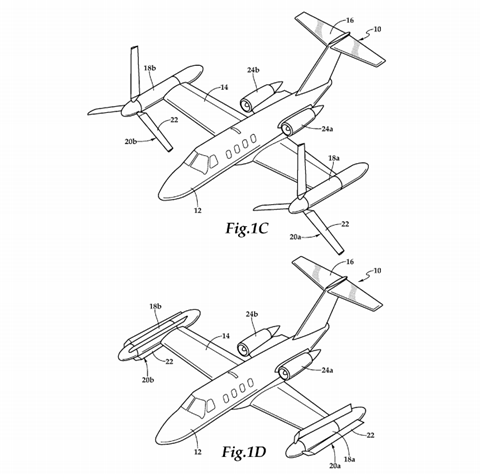 The company notes it successfully completed previous functional demonstrations at Bell's own flight research centre prior to delivering the test article to the USAF.
The upcoming evaluations at Holloman will include a series of "high-speed transition manoeuvres" conducted at representative speeds, which Bell describes as a first-of-its-kind capability for a vertical lift aircraft.
While the company has a small research and development contract from the Air Force Research Laboratory, no firm buyer has yet emerged for an HSVTOL aircraft.
However, some prominent Pentagon customers have explicitly stated they are in the market for such a capability.
The head of acquisitions for US Special Operations Command told FlightGlobal in May that SOCOM is looking for a "runway independent" aircraft that can operate at high-speeds.
"We think it fits very well into ensuring we can move long distances, in operationally relevant times to support our forces," SOCOM acquisition executive Jim Smith said at the Special Operations Forces Week conference in Tampa, Florida.
SOCOM is partnering on the initiative with the Pentagon's secretive technology incubator – the Defense Advanced Research Projects Agency (DARPA) – which calls the initiative "Sprint", for "speed and runway independent technologies".
According to DARPA, the Sprint programme aims to produce a flight-capable demonstrator that can validate the technologies necessary to combine the cruising speeds of a commercial passenger jet with the VTOL capability of a helicopter.
"The goal of the programme is to provide these aircraft with the ability to cruise at speeds from 400-450kt at relevant altitudes and hover in austere environments from unprepared surfaces," DARPA says.
The effort is almost certainly a target for Bell. Chief engineer Hurst previously suggested DARPA, in addition to the USAF's internal technology incubator AFWERX, as potential customers for the company's HSVTOL technology.
Nevada-based defence manufacturer Sierra Nevada Corporation signed on to the HSVTOL project in September to support the design and development of mission systems for the aircraft.

Ryan Finnerty is the Americas defence reporter for FlightGlobal.com and Flight International magazine, covering military aviation and the defence industry. He is a former United States Army officer and previously reported for America's National Public Radio system in New York and Hawaii covering energy, economics and military affairs.
View full Profile