Bell has finished the first nacelle modifications to a US Air Force CV-22 Osprey, part of a multi-year effort to improve the maintainability of the US military's V-22 tiltrotors.
The company completed work on the first aircraft in December 2021 and has started modifying on a second CV-22, Bell confirms on 26 January.
The first modified aircraft returned to the air force's 20th Special Operations Squadron at Cannon Air Force Base in New Mexico on 13 December 2021, says Bell.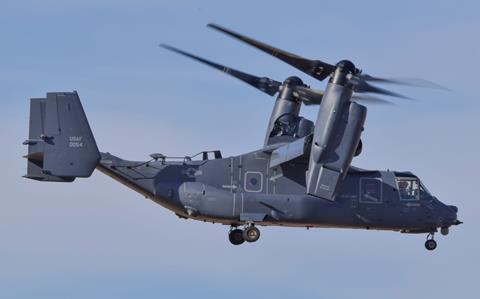 The US military in December 2020 awarded Bell-Boeing, the team that developed the V-22, an $81 million contract to modify nacelles and related wiring on the air force's CV-22s. The changes are intended to increase the aircraft's availability.
Bell has delivered 54 CV-22s to the US military. The programme of record calls for a total of 56.
The company is making nacelle modifications to reduce maintenance. It notes that 60% of man hours spent maintaining CV-22s involves work related to nacelles. The structures house the aircraft's Rolls-Royce AE 1107C engines, gearboxes and other complex architectures that enable V-22s to transition from vertical to forward flight.
Bell has made many "subtle" nacelle design changes, including splitting parts into separate components, says Bell V-22 programme director Kurt Fuller. As a result, "it's easier to maintain and [to] replace parts that we know are more prone to wear and damage".
The revised nacelles also have additional "panels and cut outs for easier maintenance to the nacelle", adds Fuller.
Bell is performing the work in Amarillo, Texas, where it also produces V-22s.
Additionally, Fuller says the effort involves overhauling "the architecture of the wiring within the nacelle". With the existing design, wires run to "junction boxes", and then out on multiple paths.
"We are changing the architecture to be more point-to-point wiring, as well as [changing] the wiring design to be more robust for the environment that we now know the tiltrotor… operates in," Fuller says.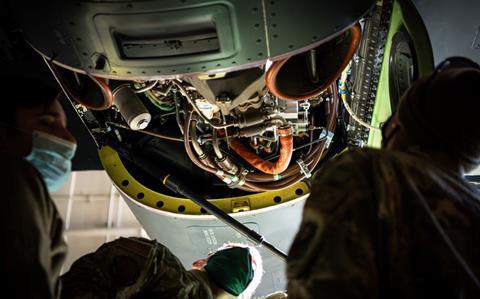 Bell aims eventually to whittle its nacelle modification time to about 30 days per aircraft. The company has said it intends to complete the CV-22 fleet's nacelle upgrades by 2025.
The US Marine Corps and US Navy are also interested in having Bell perform the same upgrades to their V-22s, says Bell-Boeing.
Bell has delivered 342 MV-22s to the Marines (out of 355 contracted deliveries) and 14 CMV-22s to the US Navy (out of 48), it says.