Bell must still compete flights and paperwork as part of the certification programme for its 525 Relentless super-medium-twin, although the company insists helicopter's long-delayed march towards service entry is nearing an end.
"This is going to be a good year for the 525, to progress for certification," Bell chief executive Mitch Snyder told reporters on 18 January.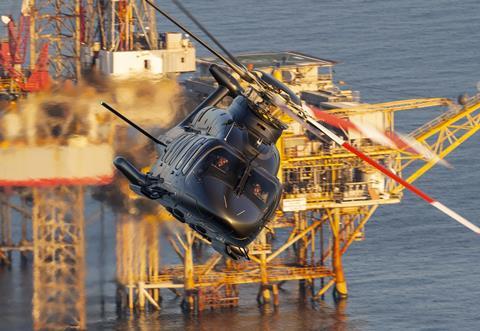 "We are getting close and closer to that finish line," adds Bell programme director Derek Mookhoek, noting some flight tests and "certification reports" remain to be completed.
Bell executives provide no estimate of when the Federal Aviation Administration might issue the 525's approval, nor do they specify why the effort is so delayed.
However, they note some remaining work lies in the FAA's hands and is subject to the regulator's schedule. They also say certification involves review of technologies new to commercial helicopters, including the aircraft's fly-by-wire (FBW) system, foe which the agency has proposed special certification conditions.
Certificating "a clean-sheet design aircraft [with] fly-by-wire… That stuff takes time," says Bell chief engineer Josh O'Neil, adding that some items are "new to everyone".
In the coming weeks Bell also intends to begin icing tests as part of a parallel effort to achieve an icing-specific amended type certificate for the 525.
Launched in 2012, three years later Bell pushed back the Relentless's first delivery until 2017. The the following year a prototype crashed during flight tests, and Bell subsequently pushed back the type's certification timeline. Early last year, Bell was aiming to achieve the milestone before the end of 2021.
Powered by two 1,714shp (1,278kW) GE Aviation CT7-2F1s turboshafts, the 16-passenger 525 will have 580nm (1,074km) of range and cruise at 160kt (296km/h), Bell says.
The company is pitching the type for various missions, including as an executive transport, troop transport, public-safety aircraft and, crucially, as an offshore transport for oil and gas companies.
Bell has been flying three 525 test articles. The certification test aircraft has registration N525BN, while an aircraft assigned to icing tests is registered as N525BV. Bell has been using the third – N525TY – as a customer demonstrator.
Last autumn, Bell took the demonstrator on a customer tour, completing 45 flights and carrying some 400 people. It showcased the aircraft to oil and gas companies in Louisiana and Mississippi and to potential foreign buyers in Washington DC.
"The overall feedback with extremely positive," says Bell director of business development Tim Evans. "The most positive feedback we had was how easy it was to fly."
Some customers were "nervous about… the fly-by-wire and side stick, but also very pleased with how quickly they were able to adapt", Evans adds.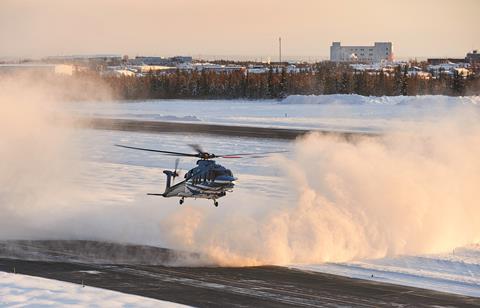 Demand from oil and gas companies for new helicopters had waned in recent years, though Evans notes oil prices have been on the rise lately.
"It's certainty more bullish than it had been," he says of the oil and gas segment.
Bell views the super-medium 525 as a formidable competitor against heavy-lift types working in the demanding energy industry, pointing out its lower operating costs than lager competitors such as the Siorsky S-92.
"It's going to perform almost like a heavy, " Evans says. "We are seeing a lot more interest in the aircraft."
Bell has already conducted some icing evaluations but plans to complete icing flight tests this winter in Michigan. There, the airframer will fly a 525 behind a Boeing Chinook equipped with an ice-generating spray system. Some 525 components, including the blades, are heated to prevent ice accumulation, but components like horizontal and vertical tail planes are not, Bell says.
Bell will offer 525s with an optional kit allowing for safe operating in icing conditions.