Bell is promoting a range of helicopters at this year's Dubai air show, including the Bell 429 configured for parapublic missions and the Bell 505, which has proven popular as a trainer.
Two Bell helicopters are in the static display at the show: a Bell 429 operated by the Abu Dhabi Police and a Bell 407 MRH used by an undisclosed military customer.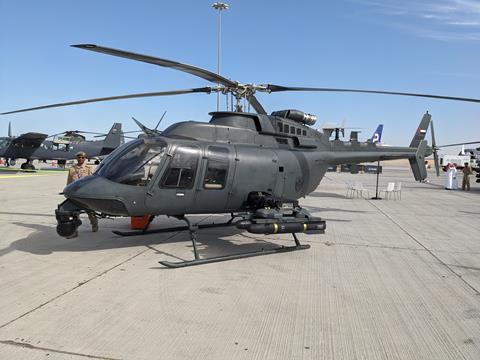 The 429 features an electro-optical/infrared sensor with an operator's station. It also has a winch, spotlight, and a beam across the top of the cabin that allows special forces to conduct fast-roping descents.
The two helicopters are part of a broader Textron Aviation presence at this year's show, which also includes fixed-wing aircraft.
"Bell has been in the region for decades and the Dubai air show is the perfect platform where we can talk not just about the products, but also the people behind the products," says Sameer Rehman, managing director Asia-Pacific for Bell.
Rehman notes that Bell's team in the region supports parapublic, military, and oil and gas users.
Rehman is optimistic on the outlook for parapublic and VIP helicopters in the region.
He adds that the increasing adoption of parapublic helicopters is leading to more interest in helicopters equipped for special missions, which he says is "not a small segment of Bell anymore". Missions in this space include search and rescue and emergency medical services.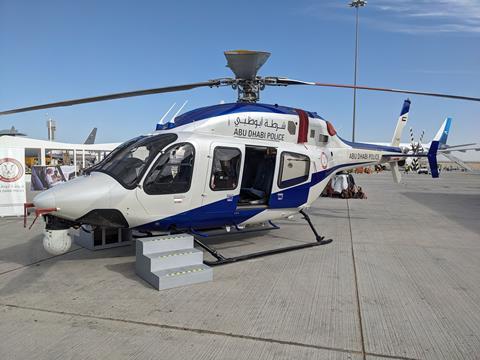 Rehman also observes that regulatory changes around air taxis in the United Arab Emirates bode well for the country's transport infrastructure: "Bell wants to be a firm advocate not only for the supply of products, but also policy as they build," he says.
He adds that the Bell 505 continues to perform well in the training role, including its service with the UAE's Horizon International Flight Academy: "The 505 has been come the staple, the standard, and the expected platform from which new pilots are trained."
Updated: The Bell 407 at the show is is a converted Bell 407 MRH, not the Bell 407M