Bell is already contemplating future potential enhancements, including an increased maximum take-off weight (MTOW), for its 525 Relentless even as the super-medium-twin enters the final stages of its certification campaign.
Currently MTOW for the 525 sits at 9,300kg (20,500lb), but chief engineer Josh O'Neil says the rotorcraft has plenty of room to grow.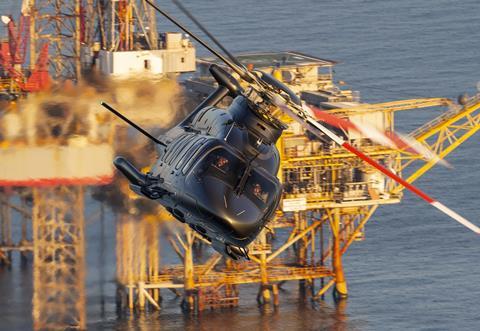 "We see the opportunity to add significant passenger payload in the coming years," he says. That would see the 525 increase its already sizeable MTOW lead over the rival Airbus Helicopters H175 at 7.8t and Leonardo Helicopters AW189 at up to 8.6t.
Tim Evans, director of 525 business development, argues that its rivals will have no way of catching up. "Their performance is at the ceiling: they've got no more room to grow those platforms," he says.
O'Neil points to the 525's large main rotor as being key to its growth potential; at 16.6m (54.4ft) diameter, it is larger than the same component on the AW189 (14.6m) and the H175 (14.8m).
No upgrades to the Relentless's gearbox or GE Aviation CT7 engines would be needed to achieve any weight increase, he adds.
Further enhancements could also be achieved through the addition of more automation to the helicopter's flight-control system.
Several such improvements, enabled by the 525's fly-by-wire controls, have already been tested, "and they worked like they should from day one", says O'Neil, without offering specifics.
But while charting the future upgrade path is pragmatic, Bell first needs to secure approval and service entry for the Relentless, steps once targeted for 2017.
Derek Mookhoek, 525 programme director, says the milestones are now within sight: "We are approaching the finish line rather quickly compared to where we have been."
A round of test flights with the US Federal Aviation Administration (FAA) will begin next week and a second aircraft will shortly begin flights with the regulator's pilots on board.
However, Mookhoek declines to speculate on the timeline for certification: "On our schedule we are driving for the middle of the year, but it is so dependent on the FAA being there, for me to say we will be done in Q2 or Q3 is really difficult.
"What we would love to do is complete all our flight testing by Q3 and give ourselves a quarter to wrap up all the remaining paperwork out to close out the TC."
Even if certification slips slightly "it's not going to stop what we are doing from a production standpoint. We are building the aircraft and those aircraft will be ready for delivery next year."
Mookhoek declines to detail the current backlog for the 525, or its planned output rate, saying simply that the production line "is full".
Bell argues that delays to the programme, while clearly unfortunate, have left the 525 poised to enter service just as the oil and gas market begins to pick up and the replacement cycle for the Sikorsky S-92 heavy-twin begins to get under way.
"I think the reality is setting in with the oil and gas industry that the S-92's useful life is nearing an end," says Evans.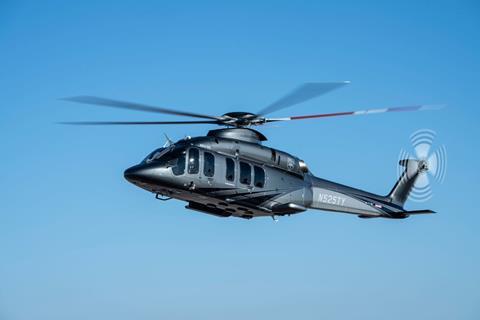 But all the while that Bell has been working to achieve certification, Airbus and Leonardo have been maturing their AW189 and H175 platforms following service entry in 2014.
Evans describes the 525's competitors as "good aircraft" but believes Bell is offering a step-change in performance. "We have made an investment decision to take the industry in a different direction," he says.
"Customers in the oil and gas industry are asking for safety margins equivalent to those in the fixed-wing space. We are trying to build a better, safer platform.
"Yes, it's going to be more expensive, but you get what you pay for. We are seeing a significant response in demand. It is going to take time, we know that, but we are asking our customers to make a 50-year decision."
Sources in the industry suggest the 525 is around $10 million more expensive than the AW189 or H175, and around the same amount less than the S-92. "There's some debate whether it is a super-medium or a light-heavy," adds one leasing chief, speaking on condition of anonymity.
"Bell is going to have to incentivise the market to stimulate demand", noting that the manufacturer is caught in a catch-22: "We will only buy it when there is a large enough installed fleet, but they need us to buy it to create that installed fleet."
Another lessor active in the oil and gas segment says it has seen interest from end users for the 525 but notes the already crowded space. "At the end of the day there may not be room for three super-mediums in terms of the size of the market," they add.
But Evans argues that the 525's attributes are what will secure its future: "We are building something different and we think the market is going to demand what's different because it is the future of the helicopter – we are making a substantial bet."
He says the launch customer for the 525 is in offshore industry, although does not identify the operator.
It is also unclear where that operator will be located and whether there could be an impact from the time it could take for the European Union Aviation Safety Agency (EASA) to validate the FAA's approval.
"We are investigating every avenue we can. We are trying to launch – we are going to have FAA [certification] first," says Evans. EASA approval would typically follow around six to 12 months later, with work also continuing on achieving supplemental type certification for a full ice protection system, due in 2024.
"We are looking at timing and demand signals for all those things because frankly, our customers are just not going to move forward and buy something that is not certified in Norway."
Bell has previously targeted the Norwegian market, which is heavily reliant on the S-92, for Relentless sales, in 2021 opening a 525 Experience Centre in Stavanger, the heart of the country's oil and gas industry.
Cirium fleets data lists a total of 46 S-92s operated in Norway by the local subsidiaries of offshore helicopter giants Bristow Group and CHC Group.

Dominic Perry is deputy editor of Flight International but also contributes extensively to flightglobal.com. Although specialising in the coverage of the helicopter industry, he has written on most topics in aerospace – be they commercial, defence or business aviation. In addition, there has been an increasing focus on the decarbonisation of the industry and zero-emission flight initiatives.
View full Profile