Bell saw a definite market rebound in the Asia-Pacific helicopter market in 2022, with notable strength in the corporate, parapublic, and tourism markets.
The company's entire portfolio did well, particularly its twin-engined Bell 429 and single-engined 505, says Jacinto Monge, managing director Asia Pacific at Bell.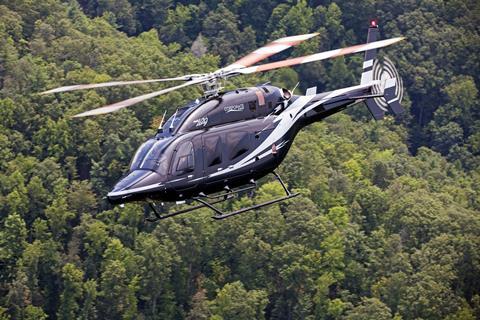 "Last year was great…an amazing year and we saw a true rebound", says Monge. "It was a good year for Bell and for the industry as a whole."
Monge did not give specific numbers, but says that things have gone well on both the orders and deliveries side of the ledger. This year, however, there is some concern that recession may way down buoyant sentiment somewhat.
Monge spoke with FlightGlobal at the recent Avalon Airshow near Melbourne. At the show, Bell announced that New Zealand operator Advanced Flight had taken a pair of VIP-configured Bell 429s.
Notably, the two rotorcraft are equipped with the company's new Designer Series Interior.
Daniel McQuestin, business development director Australasia at Bell, says that the company's long experience with corporate customers inspired the interior, which features USB ports "in the right places" and drop down tables for every seat. The standardised configuration allows Bell to produce it more quickly and cost effectively.
"We've sold four of those particular VIP configurations in Australia and New Zealand in the last four months," says McQeustin.
The Bell 429 also continues to do well with police forces in the region. Country's where Bell 429s serve in the police role include Australia, Indonesia, New Zealand, and the Philippines. There is significant scope to replace aging police helicopter fleets as well.
As for smaller helicopters, Bell is seeing a rebound in the tourism space. McQuestin notes that one notable 2002 sale involved five Bell 407GXis to Australia's Nautilus Aviation. In addition to supporting sightseeing flights over the Great Barrier Reef, the helicopters serve in the utility role, particularly during natural disasters.
In addition, At the end of 2023 South Korea will start receiving 40 Bell 505s, which will train future army and navy helicopter pilots. Monge says there is continued strong interest in the type as a training platform.
Bell is also seeing an improvement in the offshore oil & gas market, for which its super-medium Bell 525 Relentless is designed.
Bell still awaits certification for the type, but believes it will ultimately provide greater passenger comfort for passengers, as well as reducing fuel burn for operators.
McQuestin adds that in addition to the oil & gas market, the 525 will also find applications with the government in roles such as VIP transport, border force, and search and rescue.