Helicopter manufacturer Bell says assembly of the prototype the company is pitching as the US Army's new scout helicopter is more than 90% complete.
Known officially as the Future Attack Reconnaissance Aircraft (FARA), the programme is part of the broader Future Vertical Lift (FVL) effort by the army to modernise its helicopter fleet.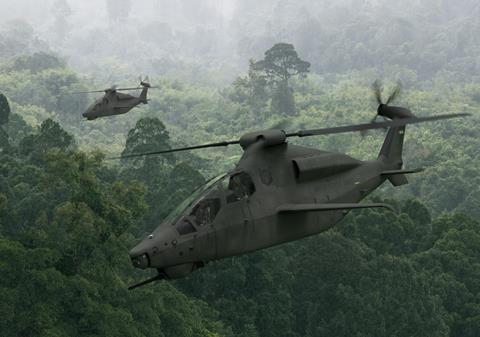 Texas-headquartered Bell, a Textron company, is a finalist for that contract, along with Lockheed Martin subsidiary Sikorsky.
Bell has put forward its 360 Invictus design for the FARA competition. Chris Gehler, vice-president and programme director for Bell's FARA team, tells FlightGlobal the first competitive prototype (CP) is more than 90% complete at a company facility in Amarillo, Texas, with one notable exception.
"We're doing as much as we can do without the engine," Gehler says in an interview.
Still missing is the turbine that will power Invictus – a GE Aviation T901-GE-900 Improved Turbine Engine (ITE). The army mandated use of the ITE for all FARA designs, but GE has experienced challenges meeting the initial delivery schedule of that critical component.
A representative of the army's Program Executive Office on Aviation told FlightGlobal in May that pandemic-related supply and labour issues were to blame for the engine delays. The service has since pushed back the FARA CP testing timeline by a year.
The missing engine limits Bell's testing of its Invictus CP. In the meantime, Gehler says Bell has been using a full-scale 3D model of the engine to continue with assembly.
Some testing is also occurring, using what Gehler describes as a "deconstructed" version of the aircraft to run simulator trials at the company's Systems Integration Lab in Arlington, Texas. The process combines digital simulators with physical components that are available, to test how those systems respond to flight control inputs.
Gehler says he is not overly concerned by the ITE delay, noting that Bell is in regular contact with the army and GE, and that "everything is progressing along".
When it comes to the FARA competition itself, the former US Army pilot is adamant Invictus is the right airframe for the job.
"Our value proposition is low-risk and low-cost," Gehler says.
That strategy was shaped by Gehler's own experience flying the Bell OH-58D Kiowa Warrior, the now-retired scout helicopter that FARA is meant to replace.
The Kiowa flew combat missions in the army for more than four decades, from the Vietnam War to Iraq and Afghanistan. Flying fast and low, pilots of the two-seat craft performed reconnaissance and identified targets for ground troops, sometimes operating from forward areas rather than secured airfields.
In Afghanistan, Kiowa copilots were known to directly engage enemy combatants with rifle fire and smoke grenades from the cockpit.
Gehler says Bell wanted a design that could replicate that type of down-and-dirty flying – as he calls it, "ability to fight out of the mud".
Central to that concept is creating a relatively simple design that is easy to maintain in rough settings. Invictus reflects those choices, having a fairly conventional design involving a single main rotor and tail rotor. "We didn't try to over-design it," Gehler explains. "We didn't try to force a technology that wasn't ready."
He and Bell are betting that simplicity will make Invictus a more-reliable, easy-to-maintain and ultimately cheaper option. They believe those benefits will appeal to decision makers in the army who may be wary of operationally untested technology.
By contrast, competitor Sikorsky has proposed for FARA its latest design in the X2 family, the RaiderX. That aircraft features several radical design features including two coaxial main rotors, rigid blades and a rear-mounted propulsor for additional thrust.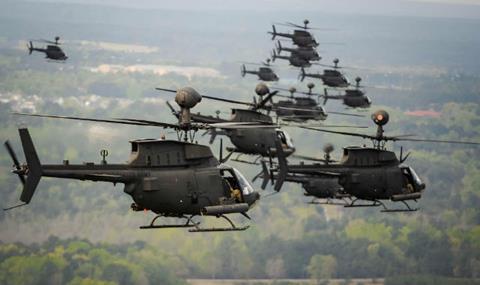 Even the cockpit arrangement of the two aircraft are in opposition: Invictus has a tandem cockpit, while RaiderX uses a side-by-side configuration.
Sikorsky also says its RaiderX CP is 90% complete. However, it has been flying a derivative aircraft, the S-97 Raider, for some time.
The Connecticut-based manufacturer argues that the advanced features of its design will produce superior battlefield performance.
Gehler counters that the army can have the best of both worlds with Bell's proposal.
"Our design is much more efficient, much more lightweight, just because of our design choices," he says, adding that Bell's craft will "easily meet" the Army's speed requirements for the competition.
Gehler is "very confident" Invictus will exceed those metrics and possibly outpace the co-axial RaiderX.
At a recent Sikorsky flight demonstration in West Palm Beach, Florida, the smaller S-97 Raider reached 185kt (343km/h). The S-97 uses a GE Aviation YT706 engine, which has around 500hp (373kW) less than GE's ITE for RaiderX and Invictus.
For FARA, the Army requires an aircraft with a cruise speed no less than 180kt and a dash speed of 200kt.
Delivery of ITEs to Bell and Sikorsky are expected this autumn, with ground tests throughout the first half of 2023, followed by first flights in the third quarter of that year.