Bell will deliver the first 525 Relentless super-medium-twin in 2022 to an undisclosed oil and gas operator, the helicopter manufacturer says.
Speaking during a media round table on 24 March, programme manager Byron Ward said that 97% of Bell's test activities on the 9t type were now complete.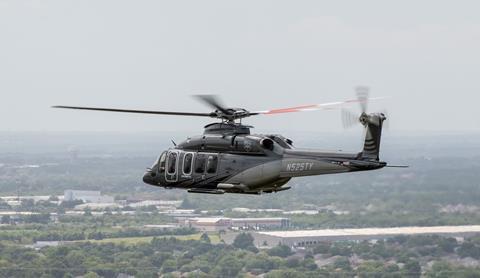 The remaining test activities – predominantly around handling qualities – now incorporate the US Federal Aviation Administration (FAA).
Certification testing should be wrapped up by May, he says, with all the documentation submitted to the regulator by mid-year.
Although declining to speculate on the FAA's timeline, Ward expects to achieve type certification "this year".
Four production 525s "are on the line in various stages of completion", he says, "with the intention of aircraft deliveries commencing next year". The first example will be in an offshore oil and gas configuration.
While a prolonged slump has hit sales into that segment, Ward says the company is seeing a lot of interest from operators looking to replace elderly Sikorsky S-92s with a helicopter which matches its capabilities "but with a much more modern pedigree".
European Union Aviation Safety Agency approval should follow the FAA validation by about "six to nine months", he says.
Post-type certification, Bell will next winter work on achieving approval for the ice-protection system. Tests will be conducted initially using a modified tanker and then in natural icing conditions. A search and rescue variant will then be next in line, he says.
So far, the 525 test fleet has accumulated around 2,000 flight hours. Aircraft 2 is currently engaged in endurance ground testing of its drive system and GE Aviation CT7 engines, which should conclude in April, after which the airframe will be retired from flight and converted into a maintenance trainer.