Bell's new Asia-Pacific head Jacinto Monge says travel restrictions related to the coronavirus pandemic have been a challenge for the helicopter maker, but pilot training, support activities, and sales efforts continue apace.
Monge stepped into the role of managing director, Asia-Pacific for Bell in recent months after a reorganisation at the company. A four-year veteran of Bell, he previously headed the company's operations in North Asia and China. Before joining Bell in 2017 he had a long career at Airbus.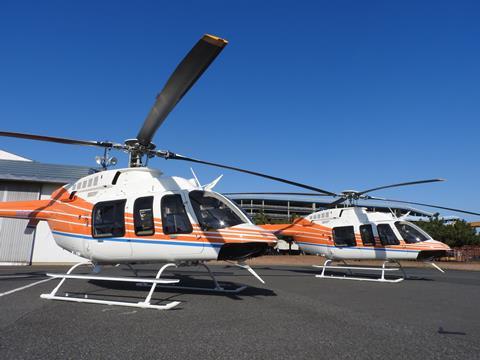 He says that a big part of his role is ensuring that customers continue to get the required support despite the issues involved with the pandemic. The company estimates that there are 1,260 Bell helicopters commercial Bell helicopters operating in the Asia-Pacific, including the key markets of China and Japan.
"The whole team has been doing a lot of work in the [support] area, with huge efforts in order to help our customers," he says.
He notes that it has been particularly challenging to perform field training in China for new types such as the Bell 505 given health requirements and quarantines. Moving people between China and the USA is quite challenging, as well as getting staff into Southeast Asian countries such as Indonesia and Thailand.
"You are blocking critical resources for extended periods of time," he says of staff undergoing quarantines.
Fortunately, Bell has an MRO capability in China outside of Shanghai, in addition to customer services centres in the country. It also has support facilities throughout the region.
As for the sales outlook, Monge expects that, absent Covid-19, Bell should be able to sell about 40 helicopters annually in the region, weighted toward the single-engined Bell 505, but also including the Bell 407, and the latest version of the Bell 412, the 412EPX.
Bell Asia-Pacific highlights for 2021
Delivered first two Bell 407GXi into Japan with Shin Nihon
First Subaru Bell 412EPX delivery to Japan's National Police Agency in Iwate Prefecture
Commenced delivery of nine Bell 412EPI helicopters to Indonesian Army with partner PT Dirgantara Indonesia - to be completed by this year or Q1 2022
Sold first Bell 429 for a corporate mission to Chip Mong Group in Cambodia
Good demand for Bell 505 with corporate customers throughout Asia-Pacific, with 159 in service regionally
Certificated in the 2018, the Bell 412EPX is produced both in Mirabel Canada, and also by Subaru in Japan, where it forms the basis of the new UH-2 utility helicopter, which will replace the UH-1 in the Japan Ground Self-Defense Force.
Monge also explained the sales relationship between Bell and Subaru in regard to the 412EPX. For the time being, Subaru's focus for the 412EPX is the Japanese market, although it could go beyond this in the future as its production capabilities advance. In June, Tokyo announced that the UH-2 has completed development.
Although Monge's focus is on Bell's civilian business, he is also involved in two major military campaigns.
Two bidders, Babcock Australia and Hawker Pacific, are pitching the Bell 429 for Canberra's Project Land 2097 phase 4, which will see the acquisition of rotorcraft for the country's special forces. FlightGlobal understands that this requirement is for around 16 helicopters.
Monge says that Bell's role in this competition is providing information and support to the bidders.
Bell is also pitching the 505 in South Korea's long-running TH-X requirement, which will see 41 rotorcraft procured for the training of army and navy helicopter pilots.