Procurement of a replacement for the Royal Air Force's (RAF's) Puma HC2 rotorcraft under the UK's New Medium Helicopter (NMH) programme appears to be further delayed, with no clarity on when the next stage of the tender will begin.
Shortlisted candidates for the £1.2 billion ($1.5 billion) contract for up to 44 helicopters were identified last October, but the process has not advanced since then.
At that point, Ministry of Defence (MoD) officials were intending to issue an Invitation to Tender – detailing the precise requirements for the contest – to the selected bidders by the first quarter of 2023.
That deadline subsequently slipped to mid-year and now, FlightGlobal understands, the document will not be released before September at the earliest.
Further delays to the acquisition increase the likelihood that the MoD will fail to meet its target of introducing the NMH by 2025.
However, the MoD declines to comment on the timeline for the procurement. "Responses to a questionnaire have been evaluated to determine a shortlist of suppliers for the New Medium Helicopter competition," it says.
"Suppliers were notified of the outcome in October 2022 and successful candidates will be invited to participate in the second half of the competition, due to be launched later this year."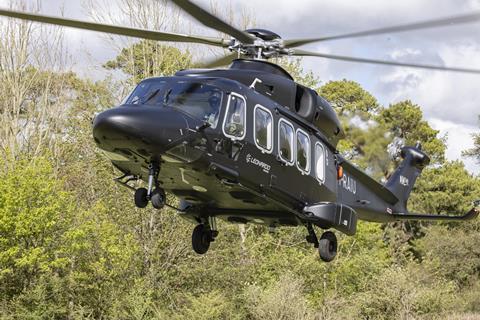 Contenders for the requirement are the Airbus Helicopters H175M and Leonardo Helicopters AW149 – both of which would be built in the UK if selected – and the Sikorsky S-70M Black Hawk, which would likely be assembled in Poland and completed locally.
In addition to the RAF's Pumas, the NMH is intended to replace three other types: Bell 212s and 412s, and Airbus Helicopters AS365 Dauphins used by the Army Air Corps for special forces missions.
The two Bell types, operated in Cyprus and Brunei, have already been retired and replaced by Pumas, seeing that helicopter's life extended to at least 2025, if not beyond
During a recent House of Commons Defence Select Committee hearing, chief of the ai staff Air Chief Marshal Sir Richard Knighton said a further extension, to 2027 or 2028, would be "feasible".
Airbus Helicopters provides support for the Puma fleet through an ongoing sustainment contract that currently runs through 2025.

Dominic Perry is deputy editor of Flight International but also contributes extensively to flightglobal.com. Although specialising in the coverage of the helicopter industry, he has written on most topics in aerospace – be they commercial, defence or business aviation. In addition, there has been an increasing focus on the decarbonisation of the industry and zero-emission flight initiatives.
View full Profile