The Netherlands received its 20th and final Boeing CH-47F Chinook heavy-lift helicopter on 14 November.
Manufacturer Boeing says it has delivered the final Chinook airframe to the Royal Netherlands Air Force (RNLAF), marking the conclusion of the service's fleet upgrade programme.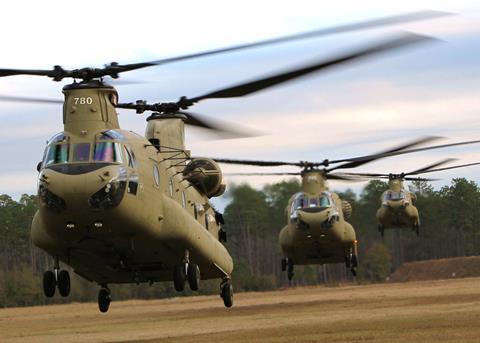 "These state-of-the art aircraft will significantly improve their defence and humanitarian assistance capabilities," says Ken Eland, H-47 programme manager for Boeing.
The "Foxtrot" model of the long-serving CH-47 type is the latest version of the twin-rotor aircraft, and features improved digital avionics, more powerful engines and lower maintenance requirements.
In 2016, the RNLAF purchased 14 new CH-47F Chinooks through the US Department of Defense's Foreign Military Sales programme, to replace its fleet of CH-47Ds. Those airframes had been in service with the Netherlands since 1995, according to Boeing.
In 2017, the RNLAF signed an agreement to upgrade its remaining six D-model Chinooks to the latest F-model configuration, covering the entire fleet of 20 aircraft.
"This is a milestone for us," says Lieutenant Colonel Wil van Rijn from the Dutch defence ministry. "We have newer radios and newer equipment, which help our pilots operate better in different environments than we do already."
Eight NATO countries, including the Netherlands, operate the CH-47, according to Boeing.
The helicopter first entered service with the US Army in the 1960s.