Boeing has secured a $565 million contract to remanufacture AH-64D Apache attack helicopters operated by three countries into the more advanced "E" variant.
The work will cover 47 helicopters, according to a Boeing statement.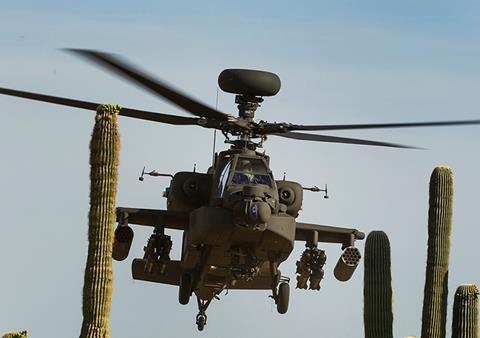 The Boeing statement did not name the customers or break down the precise number to be remanufactured for each, but a 18 December notification on a US Department of Defence (DoD) website indicates that the three countries are the Netherlands, United Arab Emirates, and the United Kingdom.
The US Army is the contracting authority under the Foreign Military Sales (FMS) programme.
Boeing will remanufacture the rotorcraft in Mesa, Arizona with an estimated completed date of 1 March 2025.
Cirium fleets data indicates that the three countries operate a total of 108 AH-64Ds, with an average age of 19.6 years. The UK operates 50 (with 16 examples in storage), the Netherlands 28, and the UAE 30.
The UK also has orders for 38 AH-64Es, while the UAE has orders for 10.
In May 2017, the US DoD announced that 38 of the UK's AH-64s would be remanufactured into the "'E" variant.
In September 2018, the US Defense Security Cooperation Agency (DSCA) announced a letter of agreement with the Netherlands for a $1.19 billion upgrade deal covering its 28 Apaches.
As part of its purchase of new build AH-64Es, the UAE had requested the upgrade of 28 AH-64Ds to the "E" variant.
"More allied defense forces worldwide are selecting the AH-64E Apache because they know it provides the most advanced technology and capability to keep their nations safe and secure today and well into the future," says Kathleen Jolivette, vice president of Attack Helicopter Programs at Boeing.
"The Apache continues to be the most proven and reliable attack helicopter on the battlefield today."
In addition, on 23 December the US Army awarded Boeing a $1.5 billion FMS contract for the sustainment of AH-64D/E helicopters operated by Indonesia, Israel, Kuwait, the Netherlands, Qatar, Saudi Arabia, South Korea, Taiwan, and the United Arab Emirates.