Boeing has started producing the first of six AH-64E Apache attack helicopters destined for service with the Indian army.
The rotorcraft will be produced at Boeing's Mesa, Arizona factory, using a fuselage produced by Tata Boeing Aerospace in Hyderabad, says Boeing.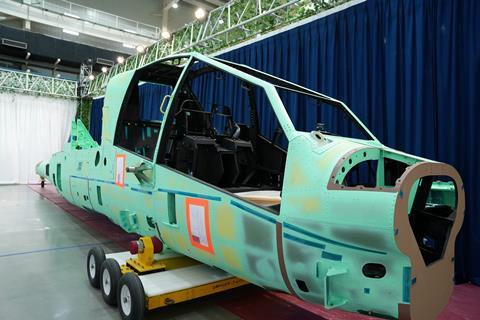 The Indian army's first AH-64E will be delivered in 2024.
India already operates the AH-64E, with 22 examples in service with the Indian air force. Deliveries of the air force's Apaches were completed in 2020.
"We are pleased to reach yet another significant milestone, highlighting Boeing's unwavering commitment to support India's defence capabilities," says Boeing India president Salil Gupte.
"The advanced technology and proven performance of the AH-64 will enhance the Indian army's operational readiness and strengthen its defence capabilities."
Cirium fleets data suggests that India's army has 268 helicopters. Of these, 41 serve the attack mission: 35 Hindustan Aeronautics (HAL) Dhruv Mk IVs, three Light Combat Helicopters (LCHs), and three HAL-produced SA315 Lamas.
In addition to orders for the six Apaches, the army also has orders for 111 more LCHs.
The most prominent helicopter type serving with the Indian army is the Dhruv Mk III, with 107 examples in service, mainly serving in the utility role.