Bristow Group chief executive Chris Bradshaw has hit out at the parts shortages that have left the offshore helicopter specialist with fewer "serviceable" Sikorsky S-92s than it needs.
Presenting the firm's third-quarter results to analysts on 2 November, Bradshaw said Bristow was experiencing supply chain challenges "particularly related to significant parts delays for S-92 helicopters".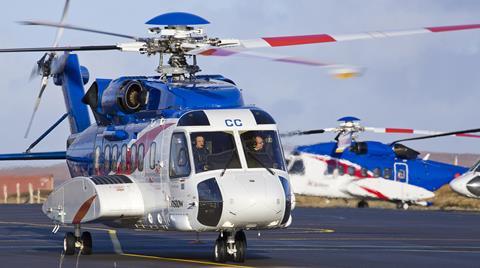 Although mitigation strategies have enabled Bristow to continue providing a "safe and reliable service" to customers, the shortage of helicopters is a brake on growth, he says.
There are opportunities in the North Sea and the US Gulf of Mexico, he says, "where if we had more serviceable S-92s, we would be able to put them to work today on revenue-generating contracts".
Coping with the supply chain shortages has not been easy and Bristow has had to take significant steps to keep its fleet flying, says Bradshaw, describing it as a "difficult and challenging time".
Measures implemented by the company include cannibalisation of its "large global fleet" for parts "to keep contracted aircraft working and flying for our customers", he says. It has also sought extensions for certain life-limited components.
In addition, Bristow has purchased used components from the secondary market, a step "which we really should not have to do under the terms of our full tip-to-tail, power-by-the-hour… support agreement with Sikorsky for the S-92".
Last week, FlightGlobal revealed that the body representing oil and gas producers had warned that the shortage of S-92 spare parts, main gearboxes (MGBs) in particular, posed a safety risk to the industry due to the increased demands being placed on maintenance providers.
Acknowledging the issue, Sikorsky says it is investing "tens of millions of dollars" in its supply chain and is increasing deliveries of MGBs. It believes it will have solved the issue by next year.
Across the industry, lead times for new aircraft are also "significant", says Bradshaw, running anywhere from 18 to 24 months.
Although the overall orderbook for offshore-roled helicopters remains "quite small", the pricing environment for operators is improving to the point that "supports new-build economics", adds Bradshaw.
He sees potential for super-medium-twins – such as the Airbus Helicopters H175 and Leonardo Helicopters AW189 – as being a "big part of the solution" in future, both to replace older S-92s and to provide growth capacity.
Separately, Bristow has ordered five H135 light-twins for around $33 million, plus 10 options, for a specific oil and gas customer to access smaller platforms. Deliveries are expected in 2024 and 2025.
Total revenues for the quarter ended 30 September stood at $338 million, an improvement against the $319 million recorded in the previous three-month period. EBITDA, excluding exceptional items, was $56.6 million, against $39 million in the second quarter.

Dominic Perry is deputy editor of Flight International but also contributes extensively to flightglobal.com. Although specialising in the coverage of the helicopter industry, he has written on most topics in aerospace – be they commercial, defence or business aviation. In addition, there has been an increasing focus on the decarbonisation of the industry and zero-emission flight initiatives.
View full Profile