Bristow Group has signed a tentative agreement with developer Elroy Air covering the acquisition of up to 100 Chaparral autonomous cargo aircraft.
The Elroy order is the fifth such agreement between long-standing helicopter specialist Bristow and companies working on new-generation aircraft types.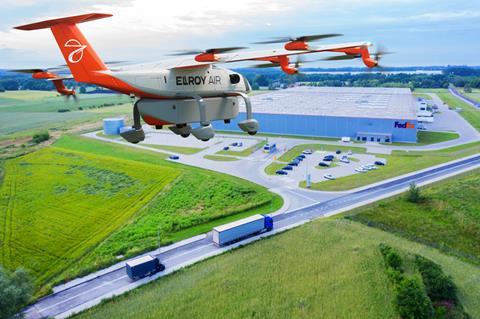 Should Bristow take the maximum number of aircraft covered by the five agreements it would see the firm operating 350 new air vehicles in addition to its current 213-strong helicopter fleet.
Those pre-orders began in August last year with a commitment for up to 50 examples of the hybrid-electric short take-off and landing fixed-wing aircraft being developed by Electra Aero.
Deals for the Vertical Aerospace VX4 (50) and Eve (100) electric vertical take-off and landing (eVTOL) vehicles followed within days of each other in September last year. The eVTOL rush was rounded out last December with an agreement for up to 50 Overair Butterfly aircraft.
Bristow intends to use the VTOL Chaparral to serve the logistics, healthcare, and energy markets.
In addition, it sees the type – which can carry 136-226kg (300-500lb) of cargo over a 260nm (482km) range – as a way of "helping offset the pilot shortage" by introducing autonomous or remotely-controlled aircraft for cargo flights.
"Leveraging our expertise as both a helicopter and unmanned air system operator, we plan to use Chaparral aircraft to fill an increasing demand for the movement of time-sensitive cargo for logistics, healthcare and energy applications," says Bristow executive vice-president and chief transformation officer Dave Stepanek.
"Bristow has 70-plus years of experience moving people and cargo. We expect to leverage that experience to usher in a new era of vertical lift operations and meet the express shipping cargo needs in cities and regions without relying on existing or new airport infrastructure."
Goods are loaded into an underslung pod that latches to the fuselage and can be picked up autonomously and dropped off in a 15.2m (50ft) landing square.
To date, Elroy has secured agreements to supply 900 aircraft to commercial, defence and humanitarian customers.

Dominic Perry is deputy editor of Flight International but also contributes extensively to flightglobal.com. Although specialising in the coverage of the helicopter industry, he has written on most topics in aerospace – be they commercial, defence or business aviation. In addition, there has been an increasing focus on the decarbonisation of the industry and zero-emission flight initiatives.
View full Profile