Bristow Group is eyeing further expansion in its government services business – which next year will account for up to one-third of revenues – as more countries look to outsource the provision of search and rescue (SAR) services.
That ambition will be significantly enhanced by a recent appeal court decision, lifting a temporary injunction that prevented the signature of a new multi-million-euro SAR contract in Ireland.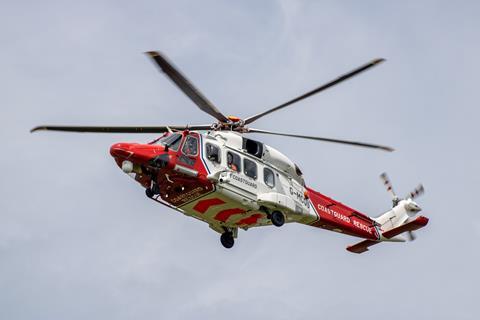 Historically a major player in the market for offshore oil and gas support operations, Bristow has over the last decade seen SAR services become an increasingly important part of its portfolio.
From an initial anchor contract with the UK government that started in 2015, the US firm has since won long-term SAR work in the Falklands Islands, the Netherlands, the Dutch Caribbean islands, and, most recently, Ireland, where on 31 May subsidiary Bristow Helicopters Ireland was revealed as the preferred bidder for a 10-year €670 million ($737 million) deal.
Presenting Bristow's second-quarter earnings on 2 August, chief executive Chris Bradshaw welcomed Irish government's selection, noting that "we expect to finalise the contract soon".
That process had been held up by an appeal by incumbent CHC Ireland, which claimed the Department of Transport (DoT) had conducted a flawed tender, automatically triggering an injunction preventing the contract award.
CHC's complaint, which ran to 58 pages, included the claim that "Bristow's winning [bid] was based on an 'abnormally low tender'."
However, the injunction was lifted by an Irish High Court judge on 25 July, with that decision upheld by Court of Appeal three days later.
In their joint submission against the injunction, Bristow and the DoT pointed out that "if it were not for the automatic suspension obtained by CHC", the contract would have been signed on 3 July.
Bristow will take over the Irish SAR service from 1 July 2025, with a transition period due to run for nine months from 1 October 2024.
Five new Leonardo Helicopters AW189s, plus one used example, will be deployed on the contract, alongside an undisclosed fixed-wing aircraft, Bristow says. It will make capital investments of around $140 million over 2023 and 2024 in the lead-up to the start of operations, says Bradshaw.
"The Irish Coast Guard contract will represent the second largest contract in our portfolio, and it is expected to contribute a substantial amount of high-quality, stable cash flow," says Bradshaw.
He sees further growth potential in the segment, with Australia likely to be the source of the next "sizeable" opportunity in the coming years.
"But again, looking forward, we think that this trend for the outsourcing of this critical but very specialised service is likely to continue with other governments considering doing the same," he says.
Bristow sees the government services unit generating operating revenues of $340-355 million in 2023 and $340-360 million in 2024, from respective totals of $1.2-1.3 billion and $1.29-1.46 billion.
However, the firm is also eyeing the benefits from a resurgent oil and gas market.
"We do think that we're in the early stages of what should be a multi-year growth cycle in offshore energy services," says Bradshaw.
"And because we see so much potential there, we actually see the growth rates for that segment being higher than any of our other service lines at this time."
Bristow forecasts oil and gas operating revenue of $755-830 million in 2023, and $850-970 million in 2024.
For the second quarter, total group revenue stood at $319 million, generating EBITDA of $39 million.

Dominic Perry is deputy editor of Flight International but also contributes extensively to flightglobal.com. Although specialising in the coverage of the helicopter industry, he has written on most topics in aerospace – be they commercial, defence or business aviation. In addition, there has been an increasing focus on the decarbonisation of the industry and zero-emission flight initiatives.
View full Profile