With its first remanufactured Boeing AH-64E Apache now in flight testing, the British Army is confident that an initial squadron of eight attack helicopters will be ready for operations later this year.
Delivered in November 2020, the initial example (ZM706) was due to make its maiden sortie from Wattisham Flying Station in Suffolk the following summer, however, the UK approvals process, coupled with inevitable Covid-related delays, pushed the milestone back to late 2021.
But Lieutenant Colonel Simon Wilsey, commanding officer of 3 Regiment Army Air Corps (AAC), is unconcerned by the delay. "The key thing for me is that we have been training my air crew and ground crew and we are good to go."
Wilsey expects the first AH-64E will be joined by additional examples in flight testing over the coming weeks.
"We have one flying right now but there will be a real increase over the next six weeks," he says, followed by a "continued incremental ramp-up" as more helicopters come on line.
Initial operational capability (IOC) is scheduled for 2023, but Wilsey says he has a nearer-term focus, describing the declaration of IOC as "a programmatic event".
"I'm less concerned about IOC and more focused on collectively training a squadron to be held at readiness," a milestone he expects "later this year".
So far, 14 of the new Apaches have been delivered to Wattisham following extensive remanufacturing work conducted by Boeing at its site in Mesa, Arizona.
Acquired under a $2.3 billion deal announced in 2016, the AAC will eventually field a fleet of 50 E-model Apaches, a reduction on the current 67 WAH-64Ds in the UK inventory. Deliveries will run until the summer of 2024.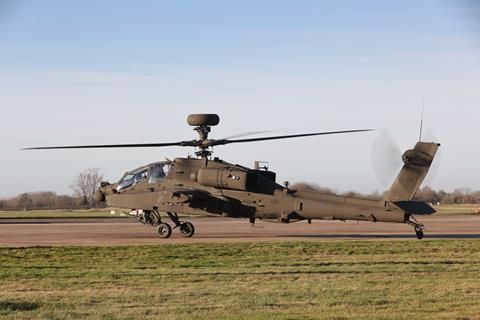 Presenting the new helicopters at an event at Wattisham on 20 January, minister for defence procurement Jeremy Quinn said the AH-64E is the "personification of a more agile, lethal and integrated expeditionary force".
He praises the combat service of the current Mk1 fleet, and adds that "with the acquisition of the AH-64E we will be adding proud new chapters to its intrepid history".
Updates to the helicopters include new GE Aviation T700-701D engines, main rotor blades and drivetrain which have increased the Apache's cruise speed by 20% over the predecessor model.
But more significant are the improvements to the helicopter's systems and sensors: a new extended-range Longbow fire-control radar, including a maritime mode; Link 16 datalinks and Mode 5 Identification Friend or Foe system; and a Manned-Unmanned Teaming (MUM-T) capability.
Wilsey describes the capability the AH-64E offers as "monstrous", citing its integration with other elements across the battlefield and better sensor systems and decision-making capability. "All that leads to vastly improved, and much more enhanced, lethality and survivability," he says.
In addition, the AAC is analysing the potential for MUM-T within the wider battlefield and with which unmanned systems it will team. Wilsey indicates that the Royal Air Force's incoming fleet of General Atomics Aeronautical Systems MQ-9B Protector RG1s is a likely candidate, however.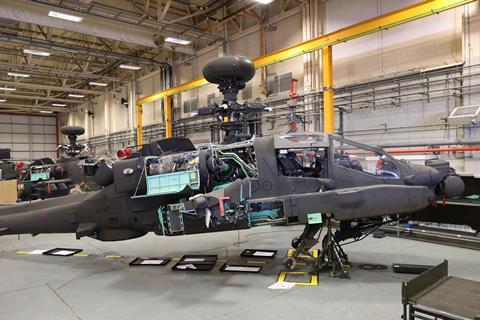 The UK's AH-64Es will be armed with a 30mm cannon, Hydra 70mm unguided rockets and Lockheed Martin AGM-114 Hellfire guided missiles, including the latest "Romeo"-standard munitions. That will be bolstered by the addition of the same manufacturer's AGM-179 Joint Air-to-Ground Missile (JAGM), with deliveries to begin next year.
Although already integrated onto the US Army's AH-64Es, UK-specific clearances will be required before the weapon can be deployed on the AAC's Apaches.
MBDA's Brimstone missile was previously considered for the role, however, the additional time and cost required for integration versus JAGM led the Ministry of Defence (MoD) to prefer the US munition.
Colonel David Amlot, deputy commander attack, 1st Aviation Brigade Combat Team and commander of Wattisham Flying Station, calls the European-built Brimstone an "excellent weapon system" but points out that JAGM "is designed specifically to integrate with the sights and sensors of this aircraft".
At this point in time, JAGM "is certainly a capable weapon system specifically designed to work with the [Apache's] radar and sights and sensors which gives us extra capability… that Brimstone would not," he says.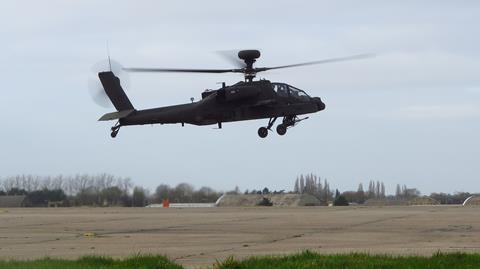 Future enhancements to the UK's Apaches may include guided rockets as a means of mitigating collateral damage, plus a non-explosive canopy severance system to permit maritime operations.
The UK has previously deployed Apaches on Royal Navy vessels and the MoD confirms that it plans to continue such operations.
A total of 32 AH-64Es will be stationed at Wattisham, divided by between 3 and 4 Regiments AAC and their respective 662/663 and 664/656 Squadrons. Another 12 helicopters will be based at the Army Aviation Centre in Middle Wallop, Hampshire – split between 673 and 653 Sqns – with another six aircraft forecast to be in deep maintenance at any one time.
Boeing Defence UK is to maintain and support the Apache fleet under a 20-year contract, establishing new operations at Wattisham and Middle Wallop.
Although acknowledging the smaller fleet size, Wilsey argues that the greater reliability will mitigate the reduction in numbers.
No decision has been taken on disposal of the remaining 17 airframes. Three are currently unserviceable and are likely to be recycled into maintenance training devices, with the remainder could be sold to another country looking "for remanufacturing opportunities".