Canada will spend over C$1 billion ($730 million) to upgrade its fleet of Leonardo Helicopters CH-149 Cormorant search and rescue rotorcraft, enabling their operation until at least 2042.
Although centred on its current 13-strong fleet, the mid-life upgrade (MLU) will see the Royal Canadian Air Force (RCAF) gain an additional three aircraft.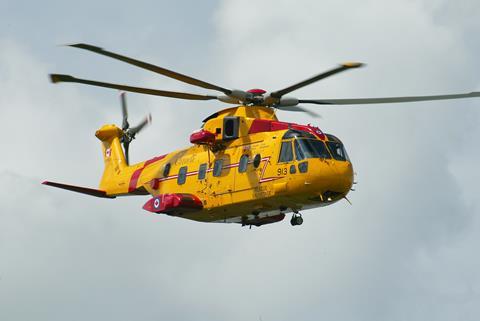 Canada's Department of National Defence (DND) says "additional airframes/parts will be acquired from Leonardo UK" – the airframer's site in Yeovil, southwest England builds the AW101 – but will also incorporate used components.
In the latter case, that will comprise parts in storage from the existing CH-149s and those salvaged from the nine AW101-based VH-71 Kestrel airframes acquired from the USA in 2009 following that programme's cancellation.
Recycled components will include transmissions, landing gears and control surfaces "to reduce costs and ensure value for money", says the DND.
Under the MLU, the CH-149s will be raised to the same standard as currently being delivered to Norway under its AW101 'SAR Queen' acquisition.
Enhancements include a new glass cockpit, more powerful digitally-controlled GE Aerospace CT7-8E engines, wireless in-cabin communications, and the latest SAR sensors.
To be led by the manufacturer, the modernisation will be performed by the Team Cormorant grouping, which also includes IMP Aerospace and Defence, GE Canada and Collins Aerospace Canada. Most of the work will be performed in Canada, primarily at IMP's facilities in Halifax, Nova Scotia. The DND values the upgrade work at C$1.16 billion.
CH-149 Cormorants are based at 19 Wing Comox, 9 Wing Gander, and 14 Wing Greenwood; the additional aircraft will enable a return to 8 Wing Trenton.
In a related deal, the DND has awarded Canadian training provider CAE a C$78 million contract to supply a flight simulator that will be "representative" of the modernised fleet.
To be located in-country, the DND says the solution will remove the need for RCAF crews to "travel to the UK to train on simulators that may not be consistent with our aircraft".

Dominic Perry is deputy editor of Flight International but also contributes extensively to flightglobal.com. Although specialising in the coverage of the helicopter industry, he has written on most topics in aerospace – be they commercial, defence or business aviation. In addition, there has been an increasing focus on the decarbonisation of the industry and zero-emission flight initiatives.
View full Profile