Investigators in Canada have released their initial assessment of a fatal Royal Canadian Air Force (RCAF) helicopter crash in June, but have not yet determined a cause.
The 20 June training flight of a Boeing CH-47F Chinook heavy-lift helicopter killed both pilots, injured two onboard flight engineers and destroyed the aircraft near Petawawa, Ontario.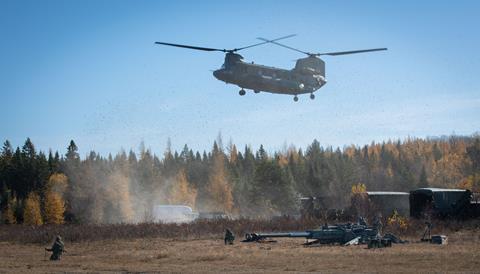 RCAF Directorate of Flight Safety investigators now say the fatal crash occurred after the twin-rotor helicopter impacted the Ottawa River while flying low at "tactical altitudes".
Shortly after take-off, flight Hammer 31 lifted off and entered a left turn toward the river. After clearing the tree line, Hammer 31 began a planned descent toward the water's surface.
"While descending and still established in the left turn, the helicopter impacted the water with high energy," the initial report says. The crash occurred just after midnight local time.
The two flight engineers onboard Hammer 31 successfully performed a water egress and escaped with minor injuries.
The bodies of deceased pilots Captain David Domagala of Ontario and Captain Marc Larouche of Quebec were recovered three days after the crash, on 23 June.
The RCAF says the investigation into the incident remains open. Flight safety investigators are "focusing on human, technical, and environmental factors", the service says.