Canberra has axed a planned acquisition of helicopters earmarked for special forces use, as it sets the stage to transition the Australian Army's helicopter fleet to the Boeing AH-64E Apache attack helicopter and Sikorsky UH-60M utility helicopter.
"The 2097 Phase Four light utility helicopter project… that has been cancelled," says Australian Army Major General Stephen Jobson.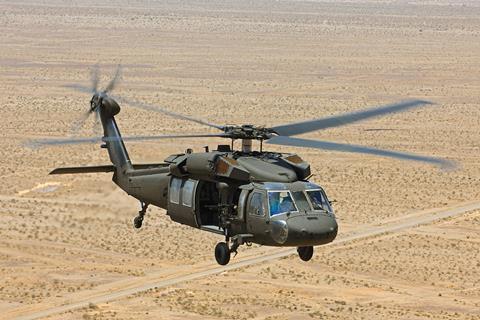 Jobson, who heads the army's aviation command, disclosed the cancellation in a discussion with journalists at the Avalon Airshow.
Instead, the incoming UH-60M will support special forces operations.
Established in 2020, Project 2097 Phase 4 called for 20 examples of an in-service type to support Australian army special forces operations in urban environments.
Three consortia emerged for the requirement. Airbus led an offer team based on the H145M, while Babcock Australia and Hawker Pacific led teams offering the Bell 429.
Jobson also discussed plans to integrate the UH-60M, which is to start arriving in late 2023. The type was acquired under a "rapid replacement" programme to replace Canberra's troubled fleet of NH Industries NH90s – designated locally as the MRH90 Taipan.
Jobson declined to discuss the reasons for the MRH90's replacement. Australia operates 47 examples, which have suffered significant reliability issues. In late 2021, Canberra announced it was ditching the type in favour of the UH-60M.
"I don't want to re-prosecute the decisions behind the imperatives," he says.
"The Australian government have made very clear their position [and that of the] Australian Defence Force. What I can say is that we're moving into a platform through the UH-60M that is aligned with the United States government and with the United States Army. Going forward, the [UH-60M represents] the levels of reliability and performance that are essential, given the challenges that we face as a nation in our region."
In addition, Australia is replacing its 22 Airbus Helicopters Tiger attack helicopters with 29 Apaches.
Adds Jobson: "There are a suite of transitions that are occurring that represent an enhancement of our capacity. Now we're managing that through our collaborative relationship with our industry partners… we're building robust plans and transparency together to enable as an enterprise a likelihood of success as we move forward."