Airbus Helicopters will by end-September begin deliveries of its H145 medium-twin with a new five-bladed main rotor following recent European certification of the modification.
Announced in 2019, the upgrade sees the H145 gain an additional 150kg (330lb) of useful load from the higher performance of the new bearingless main rotor.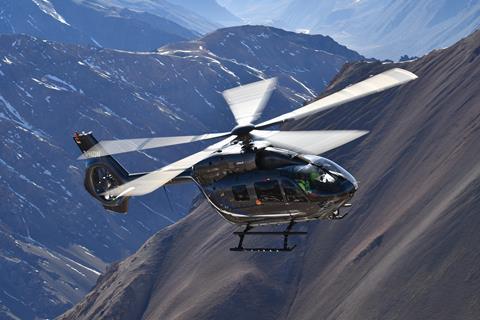 The improved rotor helps lift maximum take-off weight by 100kg, to 3.8t. Although the extra blade adds weight, savings elsewhere enabled by its performance result in a net reduction of the helicopter's empty weight by 50kg.
Approval from the European Union Aviation Safety Agency for the new variant was announced on 19 June; US certification will follow later this year, with validation of the H145M military variant due in 2021, says the airframer.
Assembly of the new standard – known as the D3 – is already under way at the airframer's Donauworth facility in Germany. First to receive the variant will be Norwegian emergency medical services operator Norsk Luftambulanse.
Production of the current four-bladed model will continue until around year-end, says Airbus Helicopters.
"Offers for the four-bladed H145 will be decided on a case-by-case basis to satisfy existing contracts and fleet customers," says the manufacturer.
Airbus Helicopters is also offering the upgraded main rotor as a retrofit option, with around 80 kits ordered to date; work on the initial helicopter to gain the modification will begin in the fourth quarter.
Certification of the five-bladed rotor covers the full range of capabilities, including single-pilot, single-engine, and instrument flight rules operations, along with night-vision goggle capability. Airbus Helicopters accumulated 550 flight hours with two test aircraft during the campaign.