Airbus Helicopters is nearing the end of flight tests for its CityAirbus urban air mobility (UAM) demonstrator as the airframer considers its approach to the segment.
"Most of the information we wanted get from the flight test campaign we have already got," Tomasz Krysinski, vice-president of research and innovation, told the Royal Aeronautical Society's European Rotorcraft Forum today.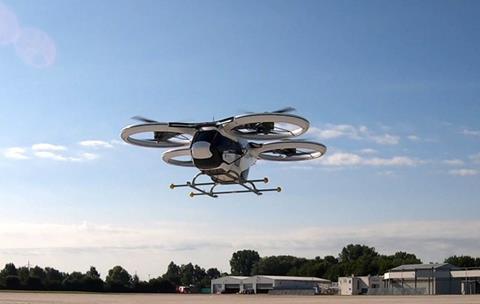 While evaluations are continuing – a round of flights took place just one week earlier – "we have seen almost everything we needed", he says, describing the data collected about the vehicle's behaviour as "very valuable".
But Krysinski remains coy on whether the manufacturer will now launch a product on the back of the trials. "I will not tell everything," he says, "but Airbus Helicopters has very big ambitions in UAM."
Tethered flights of the CityAirbus began in 2019 at the company's Donauworth production site in southern Germany, before the aircraft was moved to nearby Manching airfield.
Krysinski argues that the 2.2t maximum take-off weight CityAirbus, which boasts a 400kg useful load, is more representative of an eventual product than other smaller demonstrators currently being flown.
"If you want to learn something then you should make [the demonstrator] to the real scale," he says, noting that Airbus Helicopters' approach means "something that could be certified could come at the end of this learning".
The CityAirbus uses four pairs of ducted fans, with each of the eight fixed-pitch propellers powered by a 100kW electric motor.
Airbus Helicopters is currently testing a fly-by-wire system for future UAM applications on its H130-based Flightlab flying testbed.