A retired US Army helicopter pilot has been awarded the USA's highest military decoration for an improvised air rescue he carried out under fire during the Vietnam War.
Captain Larry Taylor, who flew a Bell AH-1G Cobra attack helicopter during the Cold War-era conflict in Southeast Asia, was presented the Medal of Honor by President Joe Biden on 5 September – 55 years after Taylor's actions saved the lives of four US Army troops stranded under enemy fire.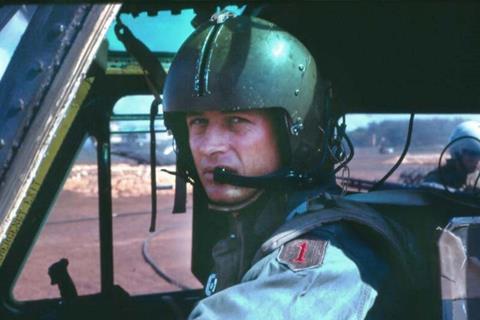 In1968, Taylor and co-pilot Chief Warrant Officer 2 James Ratliff were flying a night air support for the small American reconnaissance team, which had been engaged by at least 80 hostile personnel near the village of Ap Go Cong, Vietnam.
Running low on fuel and ammunition after 45 minutes of flying low over the beleaguered ground team, Taylor was informed that no evacuation helicopter would be sent to extract the men because of the heavy enemy fire.
Rather than leave the surrounded Americans to be killed or captured, Taylor located the four soldiers and set his attack helicopter down on the hostile landing zone, with the intent of improvising an evacuation.
The AH-1's tandem cockpit has only two seats – with no internal space to carry additional personnel.
"The Cobra was only designed to carry a pilot, a co-pilot and ammunition," said secretary of defense Lloyd Austin at the 5 September ceremony. "Evacuating soldiers with this kind of helicopter was absolutely unheard of – and most would never think to even try it."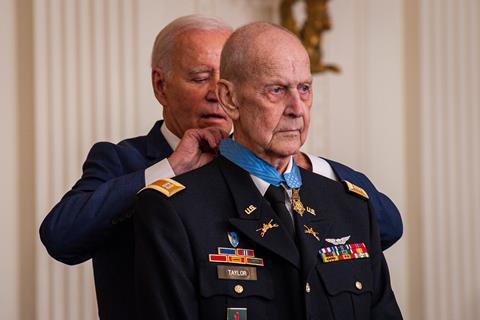 The ground force signalled the AH-1G with a flare and Taylor landed near their location. His aircraft was repeatedly impacted by enemy fire while on the ground, according to the army's account of the incident.
"Having expended his ammunition, Taylor used the Cobra's landing lights to draw the enemy's attention while the patrol team headed to the extraction point Taylor had designated," the citation reads.
The four ground troops "clung to the skids and rocket pods" as Taylor lifted off, according to the Pentagon.
All four would survive the harrowing evacuation.
The Pentagon says such a manoeuvre had never been attempted before the 1968 fire fight – either in training or combat operations.
Taylor, now 81 years old, received the medal from Biden at a White House ceremony. A surviving member of the mission, US Army Sergeant David Hill, was among the audience members in attendance.
During his military service as a helicopter pilot, Taylor flew over 2,000 combat missions, came under enemy fire 340 times and was forced down on five occasions, according to the Pentagon.

Ryan Finnerty is the Americas defence reporter for FlightGlobal.com and Flight International magazine, covering military aviation and the defence industry. He is a former United States Army officer and previously reported for America's National Public Radio system in New York and Hawaii covering energy, economics and military affairs.
View full Profile