Collins Aerospace, the Raytheon-subsidiary and manufacturer of advanced avionics, says the next-generation of aircraft electronics will need to be smaller, lighter and more aerodynamically efficient to meet design goals.
Aircraft needing such systems will be designs put forward for the US Army's Future Vertical Lift (FVL) programme. Textron subsidiary Bell and Lockheed Martin's Sikorsky are finalists for the service's first new aircraft procurement programme in decades.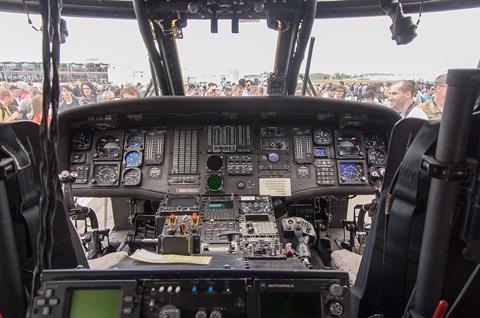 The first FVL aircraft, the Future Long Range Assault Aircraft (FLRAA), will replace Sikorsky's UH-60 Black Hawk, while the Future Attack Reconnaissance Aircraft (FARA) will provide a substitute for the retired Bell OH-58 Kiowa. A decision for FLRAA is expected in the coming weeks.
During a 28 September event at Collins' site in Huntsville, Alabama, Collins engineers and executives said they are providing components to both FLRAA submissions: Bell's V-280 Valor tiltrotor and the joint Sikorksy-Boeing Defiant X co-axial design.
The US Army is requiring significant performance upgrades in speed, range and payload for the FVL aircraft. FLRAA designs must be capable of reaching 270kt (500km/h) with an external load of 3,630kg (8,000lb), and have range exceeding 200nm (370km).
To reach those targets, while still carrying the necessary array of sensors and communications equipment, Collins says it had to try "new approaches".
"Weight is one of the biggest challenges," says Harold Tiedeman, Collins' chief engineer for FVL.
The company has a three-front approach to shaving weight and improving aerodynamics: consolidate separate systems into fewer pieces of hardware, employ lightweight composite materials and minimise antenna drag.
Concepts like de-icing equipment embedded in structural surfaces, weight-saving multi-function antennas and structural health sensors are concepts Collins says can shave kilograms and squeeze performance from airframes.
"We're introducing these systems to original equipment manufacturers," says John Esposito, Collins' vice-president of strategic pursuits.
Collins is also working to improve the performance of existing technologies. The company says its Perigon flight computer offers 20 times the computing power of existing systems, making it capable of managing pilot-controlled fly-by-wire and autonomous flight.
Perigon also meets criteria for civil certification from the US Federal Aviation Administration, paving the way for commercial applications. Collins says the computer will power the Sikrorsky-Boeing Defiant X FLRAA submission.
"We're challenging the army and the OEMs in the way they think," says Tiedeman.
OPEN-SYSTEM ARCHITECTURES
A system like Perigon also fits into the Pentagon's military-wide push for new procurement programmes to accept third-party or so-called "open system" applications – functions not designed by the original manufacturer.
The army calls the concept Modular Open Systems Approach (MOSA). Military leaders say this will reduce procurement costs and give them flexibility to rapidly deploy new technologies.
Perigon will operate using an open-source card-based hardware that will be compatible with new software applications. Collins says the system could power a range of aircraft, including cargo transports, sixth-generation fighters and aerial firefighting aircraft.
The final rules of ownership for intellectual property in defence programmes are still being developed by the Department of Defense, according to Collins. In theory, the government will retain ownership of some aspects, like interface design, while manufacturers might retain custody of data collected.