The US military has come to expect a certain amount of dysfunction within its budgeting process.
More than a decade of partisan squabbling in Congress produced three US government shutdowns, while on numerous occasions lawmakers narrowly averted government closures. The longest shutdown in US history began in December 2018 and lasted 35 days.
Events in recent weeks reveal Washington is again struggling through such gridlock, leaving military leaders bracing for fallout that could impact the US Army's development of its next-generation rotorcraft fleet.
"We're staring down the barrel of another potential government shutdown in just a few weeks," says secretary of the army Christine Wormuth.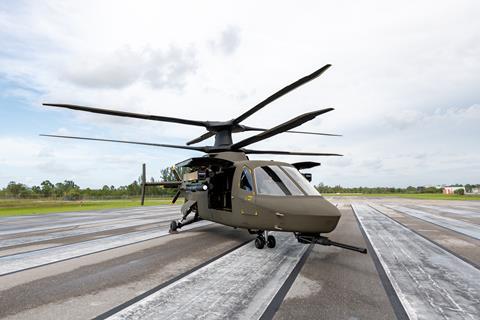 Speaking at the 2023 Association of the US Army Conference in Washington DC on 9 September, Wormuth and uniformed service leaders called on Congress to deliver stability and predictability to the Department of Defense (DoD).
Military leaders are eager for lawmakers to pass a full-year budget rather than short-term spending plans known as continuing resolutions (CRs).
"Sadly, the United States Army and DoD has gotten used to operating under CRs for the last several years," Wormuth says.
Congress typically resorts to short-term funding bills when lawmakers cannot agree on full annual budgets for the federal government. Pentagon leaders are extremely critical of the practice, saying CRs undercut modernisation efforts and delay new initiatives.
"We usually don't plan any new contract awards toward the first quarter of the fiscal year because we are usually under a CR," says assistant army secretary Doug Bush, the service's top procurement official.
Short-term funding bills – like the 45-day measure passed by Congress on 30 September – avoid the worst impacts of government shutdowns. But they also leave budgets at previous years' levels and leave military and business leaders uncertain about future government spending.
Two-year election cycles in the House of Representatives produce a near-constant focus on short-term campaign issues – with federal spending often under scrutiny – and make lawmakers reluctant to commit to major budget decisions ahead of elections, typically in November. Congress often defaults to short-term funding bills for the last three months of calendar years – which is the first three months of the Pentagon's fiscal year.
Short-term measures might have minimal impact on existing programmes like ongoing munitions production. But the outlook is less sanguine for new efforts, such as the army's aviation modernisation project.
"We have a plan for a modest CR," says Major General Walter Rugen, director of aviation for the army's deputy chief of staff.
Army aviation leaders say programmes such as the Future Long-Range Assault Aircraft (FLRAA) – intended to replace Sikorsky's UH-60 Black Hawk – are positioned to weather a few months of budget disruptions. Bell won a $232 million contract in December 2022, beating Sikorsky's bid, to support establishing FLRAA production capacity.
Another major programme, the Future Attack Reconnaissance Aircraft (FARA) – which is to replace the retired Bell OH-58 Kiowa scout helicopter – is expected to begin its flight-testing phase in 2024 after two years of delays.
FARA plans could be an early casualty of budgetary politics, should Congress opt for more short-term bills rather than a full fiscal year 2024 budget.
Bush says the current funding bill, which runs through mid-November, will not significantly impact army aviation. "But a CR that runs past the first quarter is a dramatically different situation," he adds.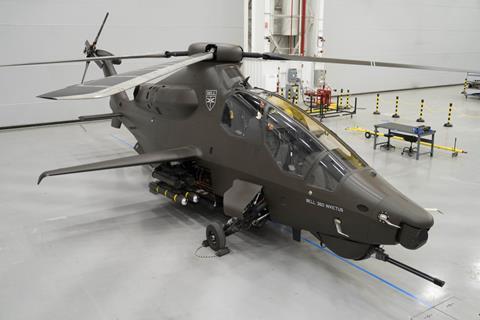 Rodney Davis, acting director of the army's aviation procurement office, agrees.

"In the near term we're okay," Davis says of new-aircraft development efforts. "When you get towards the end of the year, we start running out of money."
The uncertainty comes just as the FARA programme is about to achieve a significant milestone: delivery of the first GE Aerospace Improved Turbine Engines (ITE) that will power the two prototype designs by competition finalists Bell and Sikorsky. The helicopter manufacturers are expected to receive the new powerplants by the end of October.
Davis says FARA development plans call for altitude-chamber testing of the ITE, followed by ground-based dry runs – all leading to first flight sometime in the middle of 2024.
How significantly a budget impasse might affect such schedules remains unclear. But the budget battle comes amid the service's most-substantial fleet transformation effort in 50 years and as the entire US military attempts to rapidly modernise in preparation for potential conflicts with modern industrial adversaries.
"I'm definitely concerned about the lack of funding," says Wormuth, citing an "incredibly challenging security environment".
With an active war now raging between Israel and Hamas militants in the Middle East, the Pentagon – and by extension its industrial suppliers – are supporting two high-intensity conflicts (the other being in Ukraine) while attempting to prevent conflict over Taiwan.
"We're doing everything we're doing in Ukraine. We're working to keep up with the pacing challenge of China. We see what's happening in Israel," Wormuth says. "Having predictable funding would help a lot."
When military planners will get such predictability remains highly uncertain.
The House of Representatives has largely been paralysed since the majority Republican party removed the previous Speaker of the House for making a deal with opposition Democrats. That agreement produced the short-term funding bill.
Until Republicans agree on a new House Speaker, no new spending can be approved.
"The longer a CR goes on, the more profound those impacts become," Wormuth says.